Boomerang triggerfish
Scythe markings on the lei triggerfish contain pigments which may change hue from light yellow to dark brown depending on mood of the fish.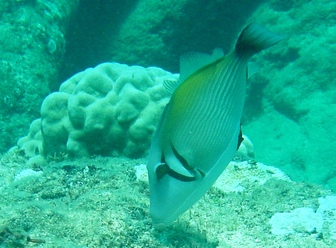 Picture of the Boomerang triggerfish has been licensed under a Creative Commons
Attribution
.
Original source
: Flickr: July 2005 -- Sharks Cove -- Oahu Author
Author
: davidd Permission (
The Boomerang triggerfish lives in the reef-associated, marine, depth range 3 - 90 m environment.
The boomerang triggerfish, ( Sufflamen bursa ) is also known as whiteline triggerfish. The distinctive boomerang-shaped marks behind the eye and the characteristic white line that runs from the mouth to the anal fin can be used to clearly identify this fish species. More
Boomerang Triggerfish Family: BalistidaePicture of a Bursa Triggerfish * Puzzles * Postcards Sufflamen bursaLatest Reader Comment - See Moreexcellent triggerfish with a personality all its own. More
Common names
'O'iri in Tahitian (Reo Mā`ohi)
Ampapagot in Tagalog
Ampapagot in Visayan
Baliste boomerang in French (français)
Bbugesh in Austronesian (Other)
Bbugesh in Carolinian
Boemerang-snellervis in Afrikaans
Boomerang triggerfish in English
Cumu in Fijian (vosa Vakaviti)
Humuhumu-lei in Hawaiian
Kaputput in Tagbanwa Calamian
Lei trigger in English
Lei triggerfish in English
Mumuku horara in Gela
Musumehagi in Japanese (日本語)
Ngúsúngús in Austronesian (Other)
Ngúsúngús in Carolinian
Pakol in Waray-waray
Pakoy in Tagalog
Pallid triggerfish in English
Papakol in Tagalog
Porco de Boomerang in Portuguese (Português)
Puggot in Maranao/Samal/Tao Sug
Puggot in Tagalog
Pugot in Bikol
Pugot in Cebuano
Pugot in Davawenyo
Pugot in Waray-waray
Pungaftrækkerfisk in Danish (dansk)
Pungtryckarfisk in Swedish (Svenska)
Scimitar triggerfish in English
Scythe triggerfish in English
Sufflamen bursa in Catalan (Català)
Sufflamen bursa in French (français)
Sungo in Other
Sycthe triggerfish in English
Te bubu in Gilbertese
Te bubu in Kiribati
Tikos in Cebuano
Veded in Other
Whiteline triggerfish in English
頸帶多棘鱗魨 in Mandarin Chinese
頸帶鱗魨 in Mandarin Chinese
颈带多棘鳞鲀 in Mandarin Chinese
颈带鳞鲀 in Mandarin Chinese
鼓气鳞鲀 in Mandarin Chinese
鼓氣鱗魨 in Mandarin Chinese

Custom Search