Ol'wife
It is a large fish that reaches 60cm in length.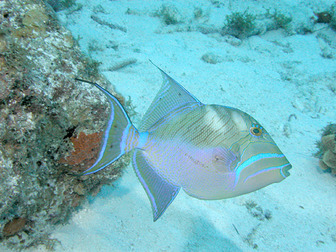 Picture of the Ol'wife has been licensed under a Creative Commons
Attribution-Share Alike
.
Original source
: Queen Triggerfish (Balistes vetula), Long Cay, Belize, Central America. Image taken by Clark Anderson/Aquaimages.
The Ol'wife lives in the reef-associated, marine, depth range 2 - 275 m , usually 3 - 30 m environment.
Nothing known about the Ol'wife
Common names
Baliste royal in French (français)
Balistes vetula in Catalan (Català)
Balistes vetula in Italian (Italiano)
Balistes vetula in Spanish (español)
Blus blã in Creole, French
Blus blã in Creoles and Pidgins, French
Bourse in French (français)
Bousse in Creole, French
Bousse in Creoles and Pidgins, French
Bousse mazarin in Creole, French
Bousse mazarin in Creoles and Pidgins, French
Cachúa in Spanish (español)
Cachuda in Spanish (español)
Cangul in Creole, Portuguese
Cangul in Creoles and Pidgins, Portuguese
Cangul in Portuguese (Português)
Cangulo in Portuguese (Português)
Cangulo papo-amarelo in Portuguese (Português)
Cangulo-do-alto in Portuguese (Português)
Cangulo-fernande in Portuguese (Português)
Cangulo-pintado in Portuguese (Português)
Cangulo-real in Portuguese (Português)
Cangulo-rei in Portuguese (Português)
Cangulo-verdadeiro in Portuguese (Português)
Cangurro in Portuguese (Português)
Capado in Portuguese (Português)
Cochino in Spanish (español)
Fambil in Creole, Portuguese
Fambil in Creoles and Pidgins, Portuguese
Fambil in Portuguese (Português)
Gatilho-rainha in Portuguese (Português)
Kärringfisk in Swedish (Svenska)
Keshomongara in Japanese (日本語)
Koningin-snellervis in Afrikaans
LÌrio in Portuguese (Português)
Ol'wife in English
Old wife in English
Oldwife in Spanish (español)
Pakol in Davawenyo
Pakoy in Tagalog
Papakol in Tagalog
Peixe porco in Portuguese (Português)
Peixe-gatilho in Portuguese (Português)
Peixe-porco in Portuguese (Português)
Peje puerco in Spanish (español)
Pejepuerco in Spanish (español)
Pejepuerco cachúo in Spanish (español)
Peroá in Portuguese (Português)
Pez puerco in Spanish (español)
Piruá in Portuguese (Português)
Pishiporko rab 'i gai in Papiamento
Puerco in Spanish (español)
Pugot in Davawenyo
queen triggerfish in English
Rogatnica piekna in Polish (polski)
Rotzahntriggerfisch in German (Deutsch)
sol in Spanish (español)
Triggerfish in English
Turbot in English
Yotojoro in Wayuu
妪鳞鲀;姬鳞鲀 in Mandarin Chinese
嫗鱗魨;姬鱗魨 in Mandarin Chinese

Custom Search