Pacific giant seahorse
The pacific seahorse, Hippocampus ingen , is one of the largest of the 34 known species of seahorses in the world, the pacific seahorse can reach up to 30 cm in length.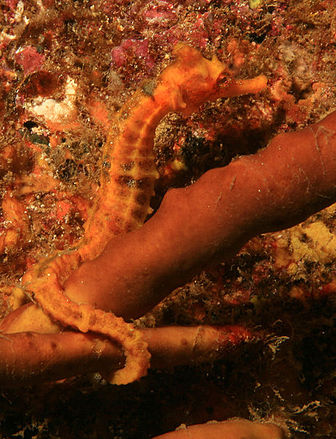 Picture of the Pacific giant seahorse has been licensed under a Creative Commons
Attribution
.
Original source
: Bashful Seahorse Author LASZLO ILYES from Cleveland, Oh
Author
: LASZLO ILYES from Cleveland, Ohio, USA
The Pacific giant seahorse lives in the reef-associated, non-migratory, marine, depth range 0 - 60 m , usually 3 - 18 m environment.
The Pacific giant seahorse, one of the largest in the world, can grow to about a foot in length. Like all seahorses, pipefish, and sea dragons, the giant seahorse is a member of the family Syngnathidae. More
Common names
Caballito in sp
Caballito de mar in Spanish (español)
Caballito de mar del Pacífico in Spanish (español)
Caballito del Pacifico in Spanish (español)
Giant Seahorse in English
Gul søhest in Danish (dansk)
Hippocampus ingens in Catalan (Català)
Pacific giant seahorse in English
Pacific sea horse in English
Pacific seahorse in English
seahorse in English
太平洋海馬 in Mandarin Chinese
太平洋海马 in Mandarin Chinese

Custom Search