Ringed pipefish
The banded pipefish or ringed pipefish is a species of fish in the Syngnathidae family.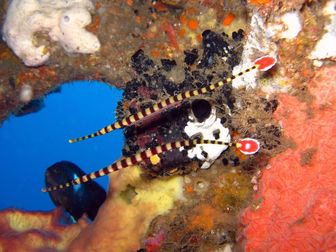 Picture of the Ringed pipefish has been licensed under a Creative Commons
Attribution
.
Original source
: originally posted to Flickr as Broadbanded Pipefish<
Author
: Silke Baron Permission (
The Ringed pipefish lives in the reef-associated, freshwater, marine, depth range 5 - 56 m environment.
Pair of Ringed Pipefish and a Bluestripe Pipefish in front of a Moray Paul Osmond 2006-08-12_22-00-05.jpg Ringed Pipefish - Doryrhamphus dactyliophorus Paul Osmond 2005-10-22-12-11-48. More
Pipefish and Ringed Pipefish, this Pipefish has a Greenish Yellow Body with Black Rings all over its body. The Tail has a combination of Red & White stripes with a White spot in the middle of it. More
Common names
Band-pypvis in Afrikaans
banded pipefish in English
Doryrhamphus dactyliophorus in Portuguese (Português)
Flûte rayé in French (français)
Oiran-yôji in Japanese (日本語)
Pipefish in English
Ringed pipefish in English
Seepraneula in Finnish (suomen kieli)
Stribet tangnål in Danish (dansk)
Tangkur merah putih in Malay (bahasa Melayu)
带纹矛吻海龙 in Mandarin Chinese
帶紋矛吻海龍 in Mandarin Chinese
斑節海龍 in Mandarin Chinese
斑节海龙 in Mandarin Chinese
黑环海龙 in Mandarin Chinese
黑環海龍 in Mandarin Chinese

Custom Search