Messmate pipefish
The Messmate pipefish , is a pipefish from the Indo-Pacific.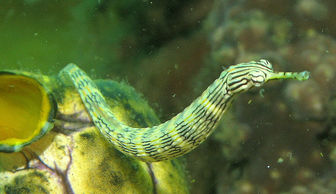 Picture of the Messmate pipefish has been licensed under a Creative Commons
Attribution
.
Original source
: originally posted to Flickr as PipeFish
Author
: Steve Childs
The Messmate pipefish lives in the reef-associated, marine, depth range 0 - 21 m environment.
Messmate Pipefish - Corythoichthys Intestinalis - 25 March 2009 No Comment corythoichthysintestinalis Scientific name: Corythoichthys Intestinalis Common names: Messmate Pipefish Maximum Lench: 6.7 in. More
Common names
Australian banded pipe in English
Australian messmate pipefish in English
banded pipefish in English
Bloodspot pipefish in English
Bukaya bukaya in Tagbanwa Calamian
Dagum-dagum in Tagalog
Dagum-dagum in Visayan
Fipumas in Mahl
Hippocampe flúte in French (français)
Ishi-yôji in Japanese (日本語)
Kabayong unat in Tagbanwa Calamian
Makkaraneula in Finnish (suomen kieli)
Messmate pipefish in English
ose ni waitui in Fijian (vosa Vakaviti)
Pipefish in English
Pulchala in Malayalam (മലയാളം)
Reef-top pipefish in English
Reeftop pipefish in English
Safiirineula in Finnish (suomen kieli)
Scribbled pipefish in English
Tongkur putih in Malay (bahasa Melayu)
Waite's pipe-fish in English
Yellow-streaked pipefish in English
പുല്ചാള in Malayalam (മലയാളം)
內冠海龍 in Mandarin Chinese
内冠海龙 in Mandarin Chinese
紅鰭冠海龍 in Mandarin Chinese
红鳍冠海龙 in Mandarin Chinese

Custom Search