Slendertail lanternshark
Reproduction is presumed to be ovoviviparous.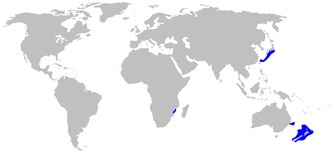 Picture of the Slendertail lanternshark has been licensed under a
GFDL
Original source
: Compagno, Leonard; Dando, Marc & Fowler, Sarah (2005). Sharks of the World. Collins Field Guides. ISBN 0-00-713610-2.
Author
: Chris_huh Permission (
Permission
: GNU Free Documentation License
The Slendertail lanternshark lives in the bathydemersal, marine, depth range 250 - 860 m environment.
Range of the slendertail lanternshark (in blue) Sharks portal The Slendertail lanternshark, Etmopterus molleri, is a shark of the family Dalatiidae found in the western Indian Ocean between latitudes 34°N and 46°S, at depths of between 250 and 860 m. More
Common names
Blackbelly lanternshark in English
Moller's lantern shark in English
Moller's lanternshark in English
Mollers deepsea shark in English
Mollers lantern shark in English
Slankhalet lanternehaj in Danish (dansk)
Slankstaartlantaarnhaai in Dutch (Nederlands)
Slendertail lantern shark in English
Slendertail lanternshark in English
Světloun Mollerův in Czech (česky)
模拉里乌鲨 in Mandarin Chinese
模拉里烏鯊 in Mandarin Chinese
莫氏乌鲨 in Mandarin Chinese
莫氏烏鯊 in Mandarin Chinese

Custom Search