Etmopterus dislineatus
Reproduction is ovoviviparous.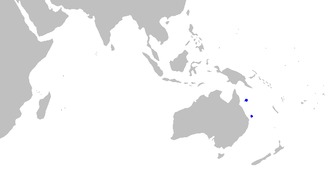 Picture of the Etmopterus dislineatus has been licensed under a
GFDL
Original source
: Compagno, Leonard; Dando, Marc & Fowler, Sarah (2005). Sharks of the World. Collins Field Guides. ISBN 0-00-713610-2.
Author
: Chris_huh Permission (
Permission
: GNU Free Documentation License
The Etmopterus dislineatus lives in the bathypelagic, marine, depth range 590 - 800 m environment.
Range of Etmopterus dislineatus (in blue) Sharks portal Etmopterus dislineatus is a shark of the family Dalatiidae found in the central Coral Sea at depths of between 590 and 800 m. Its length is up to 45 cm. More
Etmopterus dislineatus on Fish Mapper TSN 621068 (Taxonomic Serial Number) Retrieved on from the Integrated Taxonomic Information System online database. This is a cached copy. More
Common names
lined lanternshark in English

Custom Search