Lowfin gulper shark
The lowfin gulper shark has no anal fin, two dorsal fins with spines with the first dorsal fin being much longer than the rear, a long broad snout, and angular pectoral fins.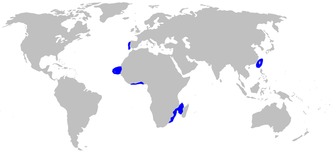 Picture of the Lowfin gulper shark has been licensed under a
GFDL
Original source
: Compagno, Leonard; Dando, Marc & Fowler, Sarah (2005). Sharks of the World. Collins Field Guides. ISBN 0-00-713610-2.
Author
: Chris_huh Permission (
Permission
: GNU Free Documentation License
The Lowfin gulper shark lives in the bathydemersal, marine, depth range 300 - 1400 m environment.
Range of lowfin gulper shark (in blue) Greyreefsharksmall2.jpg Sharks portal The lowfin gulper shark, Centrophorus lusitanicus, is a large deepwater dogfish. More
The scientific name of the lowfin gulper shark is C. lusitanicus. More
Facts about dermal denticle: lowfin gulper shark, as discussed in Britannica Compton's Encyclopedia Lowfin gulper shark: = ...somewhat toward the back. More
The lowfin gulper shark, Centrophorus lusitanicus, is a large deepwater dogfish. More
Common names
Barroso in Portuguese (Português)
Gata-lixa in Creole, Portuguese
Gata-lixa in Creoles and Pidgins, Portuguese
Gata-lixa in Portuguese (Português)
Lixa in Portuguese (Português)
Lixa lusitânica in Portuguese (Português)
Lixa-de-lei in Portuguese (Português)
lowfin gulper shark in English
Portugese zwelghaai in Dutch (Nederlands)
Quelme in Portuguese (Português)
Quelme in Spanish (español)
Quelvacho lusitánico in Spanish (español)
Žralok hltac maloploutvý in Czech (česky)
Remudo in Spanish (español)
Squale-chagrin à longue dorsale in French (français)
Squale-chagrin longue dorsale in French (français)
Žralok hltač maloploutvý in Czech (česky)
低鰭刺鯊 in Mandarin Chinese
低鳍刺鲨 in Mandarin Chinese
尖鰭鮫 in Mandarin Chinese
尖鳍鲛 in Mandarin Chinese
銹色刺鯊 in Mandarin Chinese
锈色刺鲨 in Mandarin Chinese

Custom Search