Blackfin gulper shark
The blackfin gulper shark, Centrophorus isodon, is a dogfish of the family Centrophoridae in the Northwest Pacific.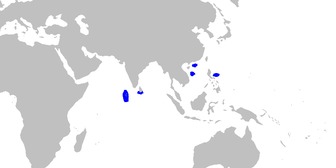 Picture of the Blackfin gulper shark has been licensed under a
GFDL
Original source
: Compagno, Leonard; Dando, Marc & Fowler, Sarah (2005). Sharks of the World. Collins Field Guides. ISBN 0-00-713610-2.
Author
: Chris_huh Permission (
Permission
: GNU Free Documentation License
The Blackfin gulper shark lives in the bathydemersal, marine, depth range 760 - 770 m environment.
The blackfin gulper shark, Centrophorus isodon, is a dogfish of the family Centrophoridae. (Wikipedia). More
Range of blackfin gulper shark (in blue) Greyreefsharksmall2.jpg Sharks portal The blackfin gulper shark, Centrophorus isodon, is a dogfish of the family Centrophoridae in the Northwest Pacific. More
Blackfin Gulper Shark Centrophorus isodon The Blackfin Gulper Shark is a rare and virtually unknown deepwater species. Its range is sporadic, ranging from Indian Ocean, South China Sea and western Central Pacific Ocean. More
Common names
Bezkýlovec stejnozubý in Czech (česky)
Black gulper shark in English
Blackfin gulper shark in English
Cucut botol in Bahasa Indonesia
Hiu botol in Jawa
Hiu taji in Bali
Longnose gulper shark in English
Zwartvinzwelghaai in Dutch (Nederlands)
同齒擬刺鯊 in Mandarin Chinese
同齿拟刺鲨 in Mandarin Chinese

Custom Search