Nigerian clarias
The broadhead catfish is identified by its large dorsal fin and its short and rounded occipital process.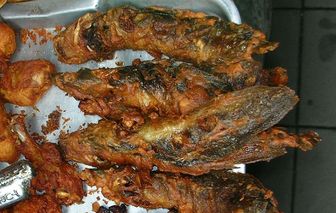 Picture of the Nigerian clarias has been licensed under a Creative Commons
Attribution-Share Alike
.
Original source
: Own work Author Xufanc
Author
: Xufanc
The Nigerian clarias lives in the benthopelagic, potamodromous, freshwater, brackish, depth range 1 - m environment.
Nothing known about the Nigerian clarias
Common names
Alimudan in Tagalog
Alimudan in Visayan
Bighead catfish in English
Broadhead catfish in English
Cá trê vàng in Vietnamese (Tiếng Việt)
Cá trÍ vàng in Vietnamese (Tiếng Việt)
Catfish in English
Clarias macrocephalus in Catalan (Català)
Duk uey in Thai (ไทย)
Freshwater catfish in English
Hito in Bikol
Hito in Tagalog
Keli in Malay (bahasa Melayu)
Keli bunga in Malay (bahasa Melayu)
Native catfish in English
Nigerian clarias in English
Pa douk in English
Pa douk in Lao (ພາສາລາວ)
Pa douk in Laotian
Pla douk uey in Thai (ไทย)
Pla duk uey in Thai (ไทย)
Pla oui chae in Thai (ไทย)
Storhovedet ålemalle in Danish (dansk)
Trey andaing toun in Khmer (ភាសាខ្មែរ)
ปลาดุกอุย in Thai (ไทย)
ปลาอั้วะชื้อ in Thai (ไทย)
斑点胡鲶(引进) in Mandarin Chinese
斑點鬍鯰(引進) in Mandarin Chinese

Custom Search