North African catfish
It is found throughout Africa and the middle east and live in freshwater lakes, rivers, swamps, as well as human-made places, such as oxidation ponds or even urban sewer systems.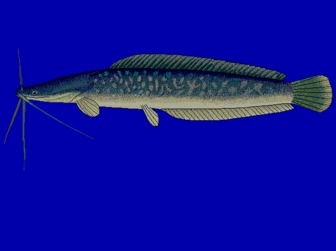 Picture of the North African catfish has been licensed under a Creative Commons
Attribution
.
Original source
: : Fishbase image
The North African catfish lives in the benthopelagic, potamodromous, freshwater, pH range: 6.5 - 8.0, dH range: 5 - 28, depth range 0 - 80 m environment.
North african catfish; African butter catfish; Catfish; Pictus catfish; Stinging catfish; Upsidedown catfish; Cuckoo catfish; Aluminum catfish; Bronze catfish; Cocosoda catfish; Flagtail catfish; Porthole catfish; Butter catfish; Whiptail catfish; Tiger catfish; Panda catfish; Brown catfish; Widehead catfish; Bronze catfish; More
North african catfish; North african hedgehog; African catfish; North african crested porcupine; North african elephant-shrew; African butter catfish; Catfish; North american porcupine; North atlantic codling; North pacific hake; North-western crow; North andean deer; North antillean slider; North island muttonbird; North persian leopard; More
Common names
Aalbüschelwels in German (Deutsch)
Abu shanab in Arabic (‫العربية)
African catfish in English
African mushi in Malayalam (മലയാളം)
Afrikaanse meerval in Dutch (Nederlands)
Afrikanischer Raubwels in German (Deutsch)
Afrikanischer Wels in German (Deutsch)
Afrikansk ålemalle in Danish (dansk)
Afrikansk Vandrarmal in Swedish (Svenska)
Ambaazaa in Oromo (Afaan Oromoo)
Ambaza in Amharic (አማርኛ)
Andouma in Fang
Arira in Igbo
Aro in Yoruba (Yorùbá)
Attek in Dinka
Attek in Dinka, Northeastern
Bagre-africano in Portuguese (Português)
Balbout in Arabic (‫العربية)
Baleewu in Fula
Baleewu in Fulfulde, Pulaar
Bambara in Wolof (Wollof)
Barbel in English
Bavhuri in Venda (tshiVenḓa)
Bombe in Nyanja
Bombe in Yao
Bomu in Nyanja
Bomu in Tonga (faka Tonga)
Bomu in Tumbuka
Bwituka in Tonga (faka Tonga)
Cá Trê Phi in Vietnamese (Tiếng Việt)
Catfish in English
Chibomu in Tonga (faka Tonga)
Chibomu in Tumbuka
Cik in Dinka
Cik in Dinka, Northeastern
Clarias gariepinus in Catalan (Català)
Cogo in Shilluk
Common catfish in English
Dera in Luo
Dera in Luo (Kenya and Tanzania)
Ejengi in Nupe
Eyisombi in Konjo
Garmut in Arabic (‫العربية)
Gol in Kim
Gwol in Kim
Harlei in Krio
Imunu in Ijo
Inkube in Other
Ishonzi in Other
Isombi in Other
Jättikonnamonni in Finnish (suomen kieli)
Kabambare in Other
Kambale in Swahili (Kiswahili)
Kambale Mumi in Swahili (Kiswahili)
Kambali in Swahili (Kiswahili)
Kamongo in Other
Karmut in Arabic (‫العربية)
Kemudu in Kanuri
Keríckovec jihoafrický in Czech (česky)
Kiemensackwels in German (Deutsch)
Klarias in Greek (Ελληνικά)
Klarias in Greek, Modern (1453)
Kopito in Other
Kopito in Samburu
Kor in Other
Lokate in El Molo
Macharufu in Meru
Male in English
Male in Other
Mburi in Lwena
Mlamba in Nyanja
Mlamba in Swahili (Kiswahili)
Mudfish in English
Mulonge in Bemba
Mumi in Other
Mumi in Swahili (Kiswahili)
Muta in Bemba
Namazu in Japanese (日本語)
Ndombe in Other
Nisu in Pokomo
North African catfish in English
Nsomba in Sena
Obito in Other
Ongala in Luo
Ongala in Luo (Kenya and Tanzania)
Pet cick in English
Pet cick in Nuer
Pet der in English
Pet der in Nuer
Pez gato in Spanish (español)
Pez-gato in Spanish (español)
Poisson-chat nord-africain in French (français)
Sfamnun matzui in Hebrew (‫עברית)
Sharptooth catfish in English
Sharptoothed catfish in English
Silure in French (français)
Singre in Other
Singre in Turkana
Singri in Other
Skerptand-baber in Afrikaans
Skerptandbaber in Afrikaans
Sombi in Other
Stawada in Polish (polski)
Sum afrykański in Polish (polski)
T-nima in Krio
Talage in Soninke
Tarwada in Hausa (‫هَوُسَ)
Thamba in Krio
Toucouleurs in Wolof (Wollof)
Trey andaing afrik in Khmer (ភាសាខ្មែរ)
Tukpe in Zande
Umihenzi in Other
Vere in Kim
Vering in Kim
Wels in German (Deutsch)
Welse in German (Deutsch)
Yess in Wolof (Wollof)
Yuzhnoafrikanskaya zubatka in Russian (русский язык)
Κλαρίας in Greek (Ελληνικά)
Κλαρίας in Greek, Modern (1453)
Африканский сом in Russian (русский язык)
ആഫ്റിക്കന് മുഷി in Malayalam (മലയാളം)
ปลาดุกแอฟริกา in Thai (ไทย)
大棘胡鲶 in Mandarin Chinese
大棘鬍鯰 in Mandarin Chinese
尖齒鬍鯰(引進) in Mandarin Chinese
尖齿胡鲶(引进) in Mandarin Chinese
革胡鲶 in Mandarin Chinese
革鬍鯰 in Mandarin Chinese

Custom Search