Masked corydoras
The fish can grow in length up to 1.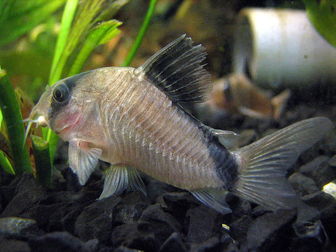 Picture of the Masked corydoras has been licensed under a Creative Commons
Attribution-Share Alike
.
Original source
: originally posted to Flickr as Acuario Author
Author
: Gonzalo Valenzuela Permission (
The Masked corydoras lives in the demersal, freshwater, pH range: 6.0 - 8.0, dH range: 2 - 25 environment.
The masked corydoras is of commercial importance in the aquarium trade industry. More
Common names
Bandit catfish in English
Bandit corydoras in English
Masked corydoras in English
Meta River catfish in English
Mustaselkämonninen in Finnish (suomen kieli)
Schwarzrücken-Panzerwels in German (Deutsch)
Svartryggspansarmal in Swedish (Svenska)
印記兵鯰 in Mandarin Chinese
印記兵鯰 in Unknown
印记兵鲶 in Mandarin Chinese
印记兵鲶 in Unknown

Custom Search