False spotted catfish
The fish will grow in length up to 1.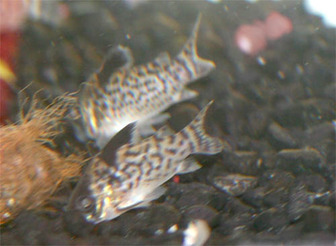 Picture of the False spotted catfish has been licensed under a
GFDL
Original source
: Transferred from en.wikipedia by User:Soulkeeper.
Author
: Original uploader was Debivort at en.wikipedia
Permission
: GNU Free Documentation License
The False spotted catfish lives in the demersal, freshwater, pH range: 6.0 - 8.0, dH range: 2 - 25 environment.
The false spotted catfish, Corydoras leucomelas, is a tropical freshwater fish belonging to the Corydoradinae sub-family of the Callichthyidae family. It originates in inland waters in South America, and is found in the Upper Amazon River basin in Colombia, Ecuador, and Peru. More
False Spotted Catfish See Synodontis dhonti False Spotted Cory See Corydoras leucomelas False Striped Jenynsia See Jenynsia multidentata False Sucker See Parotocinclus amazonensis False Suckermouth See Euchilichthys guentheri False Swordtail See Heterandria bimaculata More
Common names
Caracha in Spanish (español)
Corydoras leucomelas in Catalan (Català)
False spotted catfish in English
Shirui in Spanish (español)
Sortfinnet pansermalle in Danish (dansk)
Sysievämonninen in Finnish (suomen kieli)
白黑兵鯰 in Mandarin Chinese
白黑兵鲶 in Mandarin Chinese

Custom Search