Aspidoras fuscoguttatus
The fish will grow in length up to 4 centimeters .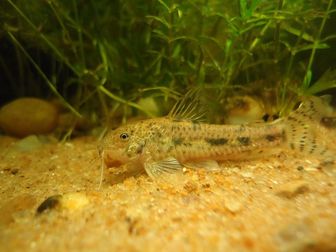 Picture of the Aspidoras fuscoguttatus has been licensed under a Creative Commons
Attribution
.
Original source
: Fishbase - click on "Brazil, by Juan Felipe" to see this image. (
Author
: Juan Felipe Permission (Reusing this file) This file is licensed under the
The Aspidoras fuscoguttatus lives in the benthopelagic, freshwater, pH range: 5.5 - 6.8, dH range: 12 environment.
Aspidoras fuscoguttatus is a tropical freshwater fish belonging to the Corydoradinae sub-family of the Callichthyidae family. It originates in inland waters in South America, and is found in the upper Paraná River basin in Brazil and Peru. More
Aspidoras fuscoguttatus Nijssen & Isbrücker, 1976 - add this species to your "My Cats" page. Common Name(s) None Type Locality Rio Paraná system, Córrego Corguinho, estrada da Três Lagoas, 20°46'S, 51°43'W, Est. Mato Grosso, Brazil. More
Common names
棕点盾皮鮠 in Mandarin Chinese
棕点盾皮鮠 in Unknown
棕點盾皮鮠 in Mandarin Chinese
棕點盾皮鮠 in Unknown

Custom Search