Hemibagrus wyckioides
These catfish originate from the Mekong basin and are reported from Chao Phraya, Mae Klong and peninsular Thailand river systems.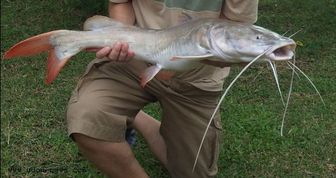 Picture of the Hemibagrus wyckioides has been licensed under a Creative Commons
Attribution-Share Alike
.
Original source
: Own work
Author
: FloUdon
The Hemibagrus wyckioides lives in the demersal, potamodromous, freshwater environment.
wyckii and Hemibagrus wyckioides are the two members of this genus imported as aquarium fish. These fish will bite and can damage objects in the aquarium. Due to both its aggressive and its predatory nature, this species should be kept alone. More
Hemibagrus wyckioides is a species of catfish (order Siluriformes) of the family Bagridae. It is occasionally called the Asian redtail catfish. More
Hemibagrus wyckioides(10) Srinakarin Reservoir, Thailand - Click to enlarge - Srinakarin Reservoir, Thailand Hemibagrus wyckioides(11) Close-up of head - Click to enlarge - Close-up of head Hemibagrus wyckioides(12) More
Hemibagrus wyckioides; hence the confusion! To further add to this confusion Hemibagrus nemurus is a valid species but differs from Hemibagrus wyckioides in that it does not posses the red coloured tail and has a more flattened head, shorter adipose fin and filamentous extensions to the dorsal and More
in the aquatic trade, and Hemibagrus wyckioides is no exception. It is not a good aquarium subject at all, and is suitable only for the very small minority of hobbyists with the facilities to house it properly. More
Common names
Chhar in Khmer (ភាសាខ្មែរ)
Hemibagrus wyckioides in Catalan (Català)
Pa kheung in Lao (ພາສາລາວ)
Pa kheung in Laotian
Trey khya in Khmer (ភាសាខ្មែរ)
Verijuovamonni in Finnish (suomen kieli)
丝尾鳠 in Mandarin Chinese
絲尾鱯 in Mandarin Chinese

Custom Search