Bowmouth guitarfish
The bowmouth guitarfish, mud skate, or shark ray, Rhina ancylostoma , is a species of ray related to guitarfishes and skates, and the sole member of the family Rhinidae.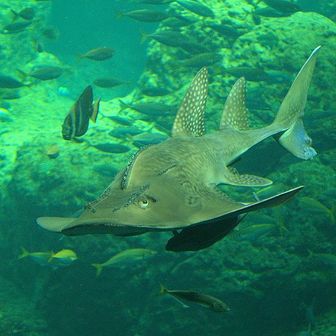 Picture of the Bowmouth guitarfish has been licensed under a Creative Commons
Attribution-Share Alike
.
Original source
: : http://opencage.info/pics/large_6586.asp
The Bowmouth guitarfish lives in the reef-associated, marine, depth range 3 - 90 m environment.
The bowmouth guitarfish feeds on shrimps, crabs and shellfish. More
Our bowmouth guitarfish is named Rhina. More
The largest bowmouth guitarfish on record was 2.9 m (9.5 ft) long. However, animals above 2.44 m (8 ft) in length are rare. More
View all available Bowmouth Guitarfish Pictures in the Shark Picture Database Common Names: Bowmouth guitarfish, bowmouthed guitarfish, Bow-mouthed angel fish, shark ray. Latin Name: Rhina ancylostoma. Family: Rhynchobatidae. More
The bowmouth guitarfish is a very distinctive-looking ray that is found in tropical seas of the Indo-Pacific region. Its range extends from East Africa to Japan and Australia. It inhabits inshore areas over muddy or sandy bottoms and coral reefs. More
New Bowmouth Guitarfish Arrive at the Georgia Aquarium = Aquarium participating in cooperative study of the reproductive biology of bowmouth guitarfish - Atlanta (November 13, 2007) – Georgia Aquarium introduced a male and female More
The bowmouth guitarfish uses its heavily ridged teeth in undulating rows to crush crabs and shellfish (2) (4). More
These bowmouth guitarfish photographs are available for commercial licensing or as archival quality prints. For further information please contact elasmodiver. More
picture of bowmouth guitarfish close up of teeth picture of banded guitarfish picture of bowmouth guitarfish picture of courting banded guitarfish Picture of a bowmouth guitarfish, Rhina ancylostoma, showing close up of uniquely shaped teeth. More
Bowmouth Guitarfish, named for its distinctive mouth which undulates like a longbow. More
Common names
Angelot in French (français)
Anonan in Hiligaynon
Boogbek-sandkruiper in Afrikaans
Bow-mouthed angel fish in English
Bowmouth guitarfish in English
Bowmouthed guitarfish in English
Buemundet guitarfisk in Danish (dansk)
Cá Gi?ng mõm tròn in Vietnamese (Tiếng Việt)
Cá Giống mõm tròn in Vietnamese (Tiếng Việt)
Geigenrochen in German (Deutsch)
Hairochen in German (Deutsch)
Hiu barong in Bali
Kupu-kupu brangkas in Bali
Lanj in Marathi (मराठी)
mud skate in English
Mun-ultava in Tamil (தமிழ்)
Nella-dindi in Telugu (తెలుగు)
Oolo-oolo tuurey in Somali (Soomaaliga)
Pottila-sora in Telugu (తెలుగు)
Pula-man uluvai in Tamil (தமிழ்)
Pulaman oliya in Sinhalese (සිංහල)
Raie guitare à bouche arquée in French (français)
Rejnokovec lukohubý in Czech (česky)
Rejnokovec skvrnitý in Czech (česky)
Rhina ancylostoma in Catalan (Català)
Rhina ancylostoma in French (français)
Rondbekkegrog in Dutch (Nederlands)
Ronin in Thai (ไทย)
Sakshi in Marathi (मराठी)
Shark ray in English
Shinonome sakata zame in Japanese (日本語)
Shinonome sakatazame in Japanese (日本語)
Shortnose mud skate in English
Thitha mora in Sinhalese (සිංහල)
Yu kemejan in Malay (bahasa Melayu)
Yunbun karang in Jawa
рыба-ангел in Russian (русский язык)
ळांज in Marathi (मराठी)
साकशी in Marathi (मराठी)
மன்னுள்தவா in Tamil (தமிழ்)
முன் உளுவா  in Tamil (தமிழ்)
முன் உள்டவ்வா   in Tamil (தமிழ்)
నల్ల దింది  in Telugu (తెలుగు)
నెల్ల దిండి  in Telugu (తెలుగు)
పొట్టిల సొర  in Telugu (తెలుగు)
ปลาโรนิน in Thai (ไทย)
목탁수구리 in Korean (한국어)

Custom Search