Undulate painted ray
The Undulate ray features a round disc shaped head, and contains small prickles used for protection.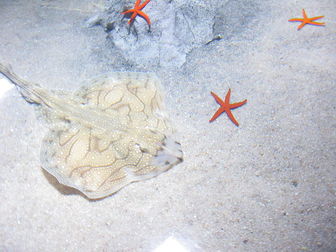 Picture of the Undulate painted ray has been licensed under a Creative Commons
Attribution-Share Alike
.
Original source
: Visita al acuario de Almuñécar Author jmerelo O
Author
: jmerelo Other versions Derivative works of this file:
The Undulate painted ray lives in the demersal, marine, depth range 50 - 200 m environment.
Nothing known about the Undulate painted ray
Common names
Aaltorausku in Finnish (suomen kieli)
Bänderrochen in German (Deutsch)
Baqara Samrâ' in Arabic (‫العربية)
blonde ray in Unknown
Boyalivatoz baligi in Turkish (Türkçe)
Boyalıvatoz balığı in Turkish (Türkçe)
Broget Rokke in Danish (dansk)
Brokrocka in Swedish (Svenska)
Curva in Portuguese (Português)
Golfrog in Dutch (Nederlands)
Kymatovatos in Greek (Ελληνικά)
Kymatovatos in Greek, Modern (1453)
Marmorrochen in German (Deutsch)
painted ray in English
Peixe-areia in Portuguese (Português)
Raža vijošaraka in Croatian (Hrvatski)
Rae c'hris in Breton (brezhoneg)
Raïa in Greek (Ελληνικά)
Raïa in Greek, Modern (1453)
Raïa in Portuguese (Português)
Raia mosaico in Spanish (español)
Raia-curva in Portuguese (Português)
Raia-mosaica in Portuguese (Português)
Raia-riscada in Portuguese (Português)
Raie brunette in French (français)
Raie fleurie in French (français)
raie peinte in French (français)
Raja bruzdowana in Polish (polski)
Raja santiaguerro in Spanish (español)
Rajada ondulada in Catalan (Català)
Rajada ondulata in Catalan (Català)
Raya mosaica in Spanish (español)
Raya mosaico in Spanish (español)
Raza vijopruga in Serbian (српски језик)
Raža vijošaraka in Croatian (Hrvatski)
Razza ondulata in Italian (Italiano)
rea roannes in Breton (brezhoneg)
Rejnok skvrnitý in Czech (česky)
Rejnok zvlněný in Czech (česky)
Salahi in Greek (Ελληνικά)
Salahi in Greek, Modern (1453)
Scheckenroche in German (Deutsch)
Scheckenrochen in German (Deutsch)
Undulate painted ray in English
undulate ray in English
undulate ray in Ukrainian (українська мова)
Undulate skate in English
Vatoz in Turkish (Türkçe)
Vatoz baligi in Turkish (Türkçe)
Vatoz balığı in Turkish (Türkçe)
Wellenfleckrochen in German (Deutsch)
Wellenlinien-Rochen in German (Deutsch)
Βάτος in Greek (Ελληνικά)
Κυματόβατος in Greek (Ελληνικά)
Κυματόβατος in Greek, Modern (1453)
Ράγια in Greek (Ελληνικά)
Ράτσα in Greek (Ελληνικά)
Ρίνα in Greek (Ελληνικά)
Σαλάχι in Greek (Ελληνικά)
波鰩 in Mandarin Chinese
波鳐 in Mandarin Chinese

Custom Search