Mottled skate
Raja is a genus of skates in the family Rajidae.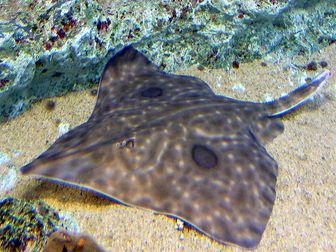 Picture of the Mottled skate has been licensed under a Creative Commons
Attribution-Share Alike
.
Original source
: http://opencage.info/pics.e/large_13318.asp Author OpenCage.info
Author
: OpenCage.info Licensing This file is licensed under the
The Mottled skate lives in the demersal, oceanodromous, marine, depth range 15 - 120 m environment.
mottled skate and salmon are the leading commercial species fished in Embetsu. Tourist attractions in Embetsu include various parks, the Fujimi Road Station, the Restaurant Tongarikan, the Asahi Hot Spring and the Local History Museum. More
Species Summary: Raja pulchra Mottled skate, You can sponsor this page, ... http://www.fishbase.org/Summary/SpeciesSummary.cfm?ID=22550&genusname=Raja&speciesname=pulchra www.fishbase.org/Summary/SpeciesSummary.cfm?ID=22550&genusname=Raja&speciesname=pulchra: Similar pages eikapsels van haaien, roggen en draakvissen/ egg-capsules of ... ... More
Common names
Geaderde rog in Dutch (Nederlands)
Geaderde rog in Unknown
Meganekasube in Japanese (日本語)
Mottled skate in English
美鰩 in Mandarin Chinese
美鰩 in Unknown
美鳐 in Mandarin Chinese
美鳐 in Unknown
참홍어 in Korean (한국어)

Custom Search