Pink whipray
The pink whipray has a diamond-shaped pectoral fin disk with a very broad, characteristically blunt-tipped snout.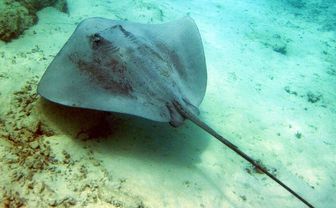 Picture of the Pink whipray has been licensed under a Creative Commons
Attribution-Share Alike
.
Original source
: Moorea - Raie Author Coco et Jo
Author
: Coco et Jo
The Pink whipray lives in the reef-associated, marine environment.
Pinnacle, the Pink Whipray mating season was getting started while a massive Mangrove Whipray looked on. More
The pink whipray, Himantura fai, is a species of stingray in the family Dasyatidae. It may be synonymous with the sharpnose stingray (H. gerrardi). The exact distribution of this species is unclear due to confusion with the pointed-nose whipray (H. More
Three Pink Whiprays at the entrance to the Gold Coast Seaway QLD Australia. More
Common names
Kraban Hin in Thai (ไทย)
Lila pijlstaartrog in Dutch (Nederlands)
Lila pijlstaartrog in Unknown
Pari in Malay (bahasa Melayu)
Pari minyak in Bali
Pari minyak in Unknown
Pari tembaga in Bahasa Indonesia
Pari tembaga in Unknown
Pink whip ray in English
Pink whipray in English
Raie fouet in French (français)
tina ni vai in Fijian (vosa Vakaviti)
Trnucha ružová in Czech (česky)
Trnucha růžová in Czech (česky)
vai buli in Fijian (vosa Vakaviti)
費氏窄尾魟 in Mandarin Chinese
費氏窄尾魟 in Unknown
费氏窄尾魟 in Mandarin Chinese
费氏窄尾魟 in Unknown

Custom Search