C-o sole
The C-O sole gets its name from the markings on its caudal fin: a crescent shape and a ring, which resemble a letter C and a letter O.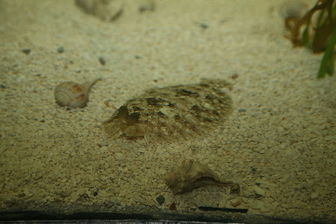 Picture of the C-o sole has been licensed under a Creative Commons
Attribution
.
Original source
: Flickr: C-O sole (Pleuronichthys coenosus) Au
Author
: Cliff Permission (
The C-o sole lives in the demersal, marine, depth range 18 - 350 m environment.
C-O sole, Pleuronichthys coenosus Purchase A Print Of This ImageHow to request, purchase or license this imageAdd To Light Table C-O sole, Pleuronichthys coenosus Purchase A Print Of This ImageHow to request, purchase or license this imageAdd To Light Table C-O sole (turbot). More
Like other flatfishes, the C-O Sole is edible. alt e-mail this page alt print this page alt More
you can tell from the photo, the C-O Sole relies heavily on camouflage. More
C-O soles ( Pleuronichthys coenosus ) are named for a distinctive pattern on their caudal fin that looks like (yup, you guessed it) the letter "C" followed by the letter "O". This one has gone a little crazy trying to match the color of some coralline algae. More
** The C-O sole is the flatfish I most commonly encounter in the Dive Park. It is often well camouflaged with patterns resembling the sandy bottom, but can also be quite colorful if it is found in rocky habitats where colorful algae may occur. More
Common names
C-O sole in English
C-O turbot in English
Ihémek'we in Salish
Platija de fango in Spanish (español)
popeye in English
污木叶鲽 in Mandarin Chinese
污木葉鰈 in Mandarin Chinese

Custom Search