European plaice
Plaice are determinate spawners in which fecundity is determined before the onset of spawning.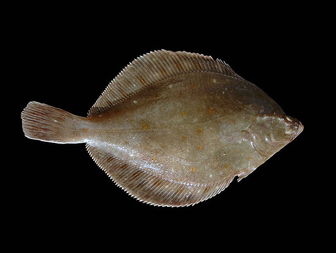 Picture of the European plaice has been licensed under a Creative Commons
Attribution-Share Alike
.
Original source
: Own work
Author
: Hans Hillewaert
The European plaice lives in the demersal, oceanodromous, brackish, marine, depth range 0 - 200 m , usually 10 - 50 m environment.
The European plaice is a well-known food fish that is found in the North Atlantic Ocean from Iceland through the North Sea and, occasionally, in the eastern Mediterranean. It usually does not exceed 51 cm (20 in) in length, but larger specimens have been taken. More
European plaice has red spots on its body and bony knobs on its head behind the eyes. It feeds on sea worms and shellfish, which it crushes with strong blunt teeth located in its throat. The European plaice spawns during the winter. More
The European plaice is closely related to the sole, and is Europe's most commercially important flatfish. The face of this fish is a bit confusing, but don't be alarmed; it's supposed to look twisted. More
Both the American and European plaice are suitable for almost any cooking method. See also fish; flatfish. More
| European plaice in English | European plaice in French | European plaice in Dutch | European plaice in German | European plaice in Russian | European plaice in Polish | European plaice in Danish | European plaice in Swedish More
European plaice is very similar to the American plaice, but has a different coloring. It is brown with reddish orange spots on the top and the same pale color on the bottom. More
Common names
An leathóg bhallach in Gaelic, Irish
An leathóg bhallach in Irish (Gaeilge)
Beneklipisi baligi in Turkish (Türkçe)
Beneklipisi balığı in Turkish (Türkçe)
Carrelet in English
Carrelet in French (français)
Dəniz kambalası in Azerbaijani (azərbaycan dili)
European plaice in English
Fasi Atlantikou in Greek (Ελληνικά)
Fasi Atlantikou in Greek, Modern (1453)
Flatfish in English
Fluke in English
Gladzica in Polish (polski)
Glossá-chomatída in Greek (Ελληνικά)
Glossá-chomatÌda in Greek, Modern (1453)
Glossáki-chomatida in Greek (Ελληνικά)
Glossáki-chomatida in Greek, Modern (1453)
Gładzica in Polish (polski)
Goldbutt in German (Deutsch)
Gullflyndre in Norwegian (Norsk)
Hen fish in English
Iverak in Serbian (српски језик)
Iverak zlatopjeg in Croatian (Hrvatski)
Leathóg in Gaelic, Irish
Leathóg in ir
Leathóg in Irish (Gaeilge)
Liehbage spottagh in Manx (Ghaelg)
lizenn in Breton (brezhoneg)
lleden in we
Merilest in Estonian (Eesti keel)
Morska plo˚èa in Slovenian (slovenščina)
Morska plošèa in Slovene
Morska plošèa in Slovene
morskaya kambala in Russian (русский язык)
Palaia anglesa in Catalan (Català)
Passera in Italian (Italiano)
Passera di mare in Italian (Italiano)
Pisi baligi in Turkish (Türkçe)
pladijs in Dutch (Nederlands)
plaice in English
plaice in Ukrainian (українська мова)
Plaice-fluke in English
Plaisenn in Breton (brezhoneg)
Platessa in Italian (Italiano)
Platija in Spanish (español)
Pleuronectes platessa in Italian (Italiano)
Pleuronekto in Ido
Plie in French (français)
Plie commune in French (français)
Plie d'Europe in French (français)
Punakampela in Finnish (suomen kieli)
Reyðsprøka in Faroese (Føroyskt)
Rödspätta in Swedish (Svenska)
Rödspotta in Swedish (Svenska)
Rødspætte in Danish (dansk)
Rødspette in Norwegian (Norsk)
Schol in Dutch (Nederlands)
Scholle in German (Deutsch)
Schullen in German (Deutsch)
Skålla in Swedish (Svenska)
Skarkoli in Icelandic (Íslenska)
Solha in Portuguese (Português)
Solla in Italian (Italiano)
Solla in Spanish (español)
Solla europa in Spanish (español)
Solla europea in Spanish (español)
Spätta in Swedish (Svenska)
Φασί Aτλαντικού in Greek (Ελληνικά)
морская камбала in Russian (русский язык)
扁海鰈 in Mandarin Chinese
扁海鲽 in Mandarin Chinese
鰈 in Mandarin Chinese
鲽 in Mandarin Chinese
⏠ασί Ατλαντικού in Greek, Modern (1453)

Custom Search