Remo flounder
The Remo flounder is a righteyed flounder and so has both its eyes on the right-hand side of its body.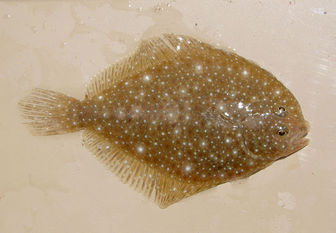 Picture of the Remo flounder has been licensed under a Creative Commons
Attribution-Share Alike
.
Original source
: Flickr: Linguado (Oncopterus darwinii) - Lado direi
Author
: Cláudio Dias Timm Permission (
The Remo flounder lives in the demersal, marine, depth range 20 - 80 m environment.
The Remo flounder, Oncopterus darwinii, is an edible flatfish of the family Pleuronectidae. It is a demersal fish that lives on bottoms at depths of between to . More
Common names
Cardeau remo in French (français)
Darwin-garei in Japanese (日本語)
Lenguado in Spanish (español)
Lenguado remo in Spanish (español)
Linguado in Portuguese (Português)
Linguado-remo in Portuguese (Português)
Remo in Spanish (español)
Remo flounder in English
白点臀棘鲽 in Mandarin Chinese
白點臀棘鰈 in Mandarin Chinese

Custom Search