Two-spot basslet
They are a medium-sized anthias reaching a maximum of 5in/12cm at adulthood.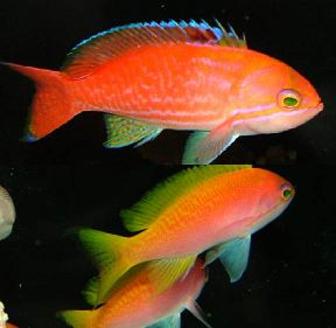 Picture of the Two-spot basslet has been licensed under a Creative Commons
Attribution
.
Original source
: Transferred from en.wikipedia Author Original uploader was Jediknight
Author
: Original uploader was Jediknight95758 at en.wikipedia Permission
The Two-spot basslet lives in the reef-associated, marine, depth range 10 - 60 m , usually 40 - 54 m environment.
the two-spot basslet, the very rare tall fin shrimp goby and the Dracula shrimp goby was worth the effort. AnemoneWalls of brilliant pink hydrocorals, underhangs bursting with orange-mouthed soft corals, the drop offs, slopes, terraces and entire reef edges riddled with huge caves and swim-throughs. More
Common names
Pers goudvissie in Afrikaans
Purple goldie in English
Two-spot basslet in English
双斑拟花鮨 in Mandarin Chinese
雙斑擬花鮨 in Mandarin Chinese

Custom Search