Camouflage grouper
The camouflage grouper is a species of fish in the Serranidae family.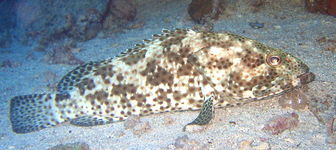 Picture of the Camouflage grouper has been licensed under a Creative Commons
Attribution-Share Alike
.
Original source
: Transferred from fr.wikipedia; transferred to Commons by User:Leoboudv using
Author
: Original uploader was ALaydier at fr.wikipedia Permission (
The Camouflage grouper lives in the reef-associated, oceanodromous, marine, depth range 1 - 46 m environment.
The camouflage grouper (Epinephelus polyphekadion) is a species of fish in the Serranidae family. More
Camouflage Grouper Camouflage Grouper Didn't find what you're looking for? Post a buying lead. More
Camouflage grouper in profile Camouflage grouper in profile © Dave Harasti/www.daveharasti.com Camouflage grouper close to shelter of a coral reef Camouflage grouper close to shelter of a coral reef © Dave Harasti/www.daveharasti. More
Camouflage Grouper at the Andaman Islands. Camouflage Grouper caught at night. Camouflage Grouper at the Andamans. *www.fishing-khaolak.com Camouflage Grouper at the Andamans. *www.fishing-khaolak. More
Camouflage grouper - Epinephelus polyphekadion Up one level Click thumbnail for more information More
Genetic structure of camouflage grouper, Epinephelus polyphekadion (Pisces: Serranidae), in the western central Pacific Marine Biology (2003) 142: 771-776 Ref ID 19577 - Author Rhodes, K.L., R. I. Lewis, R. W. More
Camouflage grouperEpinephelus polyphekadion Seafood Guide Origin Mainly sold as Fishing method More
Common names
'Atara in Tahitian (Reo Mā`ohi)
Abo-abo in Visayan
Alatan in Tagalog
Apuku in Other
Apukupuku in Other
Bantol in Visayan
Baraka in Bikol
Bato-bato in Ilokano
Batol in Visayan
Blue-tailed cod in English
Ca song in Vietnamese (Tiếng Việt)
Camouflage cod in English
Camouflage groper in English
Camouflage grouper in English
Camouflage rockcod in English
comouflage grouper in English
Epinephelus polyphekadion in Catalan (Català)
Flowery grouper in English
Garoupa mascarada in Portuguese (Português)
Gatala-aloalo in Samoan (gagana fa'a Samoa)
Gatala-nifoli'i in Samoan (gagana fa'a Samoa)
Hamoor in Arabic (‫العربية)
Hapuu in Tahitian (Reo Mā`ohi)
Ilino in Marshall
Ilino in Marshallese (Kajin M̧ajeļ)
Iner in Visayan
Inid in Bikol
Jahong in Visayan
Kakab in Ilokano
Kaltang in Tagalog
Kigting in Bikol
Kiro in Marshall
Kiro in Marshallese (Kajin M̧ajeļ)
Kugtong in Visayan
Kugtung in Bikol
Kulapo in Tagalog
Kuli patu in Gela
Kurapo in Ilokano
Kushar in Arabic (‫العربية)
Labungan in Visayan
Lapu-lapu in Kapampangan
Lapu-lapu in Maranao/Samal/Tao Sug
Lapu-lapu in Surigaonon
Lapu-lapu in Tagalog
Lapu-lapu in Waray-waray
Lapu-lapung lupot in Tagalog
Lilug in Visayan
Loche crasseuse in French (français)
Loche marbrée in French (français)
Lokos in Hebrew (‫עברית)
Lubo in Tagalog
Madarahata in Japanese (日本語)
Maleog in Austronesian (Other)
Maleog in Carolinian
Mamonbong in Visayan
Marble grouper in English
marbled grouper in English
Marbled sea bass in English
Maskad in Ilokano
Maskering-klipkabeljou in Afrikaans
Matkad in Ilokano
Mero disfrazado in Spanish (español)
Mérou camouflage in French (français)
Merou marbré in French (français)
Mwananuya in Misima-Paneati
Ogaw in Visayan
Pugapo in Surigaonon
Pugapo in Visayan
Pugayo in Visayan
qenuku in Fijian (vosa Vakaviti)
Salingukod in Visayan
Sibog in Visayan
Sigapo in Tagalog
small toothed rockcod in English
Small-toothed cod in English
Small-toothed rockcod in English
Small-toother cod in English
Smooth flowery rock-cod in English
Snout-spot grouper in English
Snout-spot rock-cod in English
Snout-spots rock cod in English
Subla in Visayan
Tabadlo in Visayan
Tangk-an in Visayan
Tarao in Rapa
Tarao in Rapanui
Ting-ad in Visayan
Tingag in Waray-waray
小牙石斑魚 in Mandarin Chinese
小牙石斑鱼 in Mandarin Chinese
清水石斑魚 in Mandarin Chinese
清水石斑鱼 in Mandarin Chinese

Custom Search