Bluespot rockcod
The Vermillion seabass, also known as the Coral Hind is a species of fish in the Serranidae family.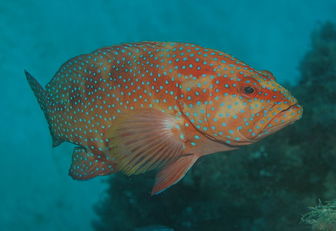 Picture of the Bluespot rockcod has been licensed under a Creative Commons
Attribution
.
Original source
: Flickr
Author
: Leonard Low from Australia
The Bluespot rockcod lives in the reef-associated, non-migratory, marine, depth range 2 - 150 m environment.
Bluespot rockcod was found in Banana Reef, Maldives. At most these fishes stay calmly at the rock shade in the daytime. This is a beautiful fish scattered the bluespots on the red body. More
This is a bluespot rockcod at Bathala Island, Maldives. This is commonly seen at the coral sea area of the tropical districts. It is quite spectacularly flameboyant. More
bluespot rockcod, coral hind, vermilion seabass 167959 Probably Present No data No data Native Cephalopholis sexmaculata gatala-mumu cave or six-banded grouper More
bluespot rockcod, coral hind, vermilion seabass Cephalopholis nigr Niger hind, orangespotted sea perch Cephalopholis oligosticta roughcheek hind, vermilion hind Cephalopholis pachycentron spotted-faced rockcod Cephalopholis panamensis More
bluespot rockcod, coral hind, vermilion seabass Local Name Size Range Environment/Habitat Importance/Value Resilience Endemic No Found in Marine Park More
Common names
'Era 'era in Fijian (vosa Vakaviti)
Abo-abo in Visayan
Alatan in Tagalog
Ananas batard in French (français)
Aroosa in Arabic (‫العربية)
Banolog in Bikol
Bantol in Visayan
Baraka in Bikol
Bato-bato in Ilokano
Batol in Visayan
Bertama in Arabic (‫العربية)
Blue-spotted rockcod in English
bluespot rockcod in English
Ca mu in Vietnamese (Tiếng Việt)
Cá Mú d? in Vietnamese (Tiếng Việt)
Cá Mú đỏ in Vietnamese (Tiếng Việt)
Chencheerachammam in Malayalam (മലയാളം)
Cherna estrellada in Spanish (español)
Chewa (moshi) in Swahili (Kiswahili)
coral cod in English
Coral grouper in English
coral hind in English
Coral rock cod in English
Coral rockcod in English
Coral trout in English
donu damu in Fijian (vosa Vakaviti)
Erdbeergrouper in German (Deutsch)
Garoupa estrelada in Portuguese (Português)
Graniec koralowy in Polish (polski)
Guduudow-Filfil in Somali (Soomaaliga)
Hamoor in Arabic (‫العربية)
Hamour in Arabic (‫العربية)
Hamrah in Arabic (‫العربية)
Hua dian jin hou in Mandarin Chinese
Hummarah in Arabic (‫العربية)
Iner in Visayan
Inid in Bikol
Inid in Hiligaynon
Iugiushaap in Austronesian (Other)
Iugiushaap in Carolinian
Jahong in Visayan
Juvelabborre in Swedish (Svenska)
Juvelbars in Danish (dansk)
Juwelen-Zackenbarsch in German (Deutsch)
Juwelenbarsch in German (Deutsch)
Kakab in Ilokano
Kaltang in Tagalog
Kasaledamu in Fijian (vosa Vakaviti)
Kerapu bar in Malay (bahasa Melayu)
Kerapu bara in Malay (bahasa Melayu)
Kerapu bintang in Malay (bahasa Melayu)
Kerapu karang in Malay (bahasa Melayu)
Kigting in Bikol
Koraal-klipkabeljou in Afrikaans
Kubing in Chavacano
Kugtong in Visayan
Kugtung in Bikol
Kulapo in Tagalog
Kurapo in Ilokano
Kurapu in Ilokano
Labungan in Visayan
Lapu lapu in Tagalog
Lapu-lapu in Davawenyo
Lapu-lapu in Kapampangan
Lapu-lapu in Kuyunon
Lapu-lapu in Surigaonon
Lapu-lapu in Tagalog
Lapu-lapung lupot in Tagalog
Lapu-lapung señora in Tagalog
Liglig in Hiligaynon
Ligmelial in Austronesian (Other)
Ligmelial in Carolinian
Lilug in Visayan
Loche sanguine in French (français)
Lubo in Tagalog
Malau pokoahu in Niuean
Mamonbong in Visayan
Mantis in Chavacano
Maskad in Ilokano
Matkad in Ilokano
Mérou minium in French (français)
Ngatala pulepule in Tongan
Ogaw in Visayan
Pagupo in Surigaonon
Pakes in Other
Pla karang-deang-judfah in Thai (ไทย)
Polo in Gela
Pugapo in Surigaonon
Pugapo in Visayan
Pugapo salapok in Cebuano
Pugayo in Visayan
Raiy faana in Maldivian
Red coral perch in English
Red grouper in English
Rero in Tahitian (Reo Mā`ohi)
Round-tailed trout in English
Salingukod in Visayan
Sheneenoh in Arabic (‫العربية)
Shnenu in Arabic (‫العربية)
Sibog in Visayan
Sigapo in Tagalog
Sikkifana in Mahl
Sivari baba in Gela
Summan in Arabic (‫العربية)
Sunu merah in Bahasa Indonesia
Tabadlo in Visayan
Tangk-an in Visayan
Ting-ad in Visayan
Tingag in Waray-waray
Ulibelila in Misima-Paneati
Vermilion grouper in English
Vermilion rock cod in English
vermilion seabass in English
Vermillion seabass in English
Vieille anana in French (français)
Vieille ananas in French (français)
Vieille chinois in Creole, French
Vieille chinois in Creoles and Pidgins, French
Vieille de corail in French (français)
Vieille Ètoilée in French (français)
Vieille rouge in French (français)
Vielle de corail in French (français)
Vielle Ètoilée in French (français)
Vielle rouge in French (français)
Yukatahata in Japanese (日本語)
ചെഞ്ചീര ചമ്മം in Malayalam (മലയാളം)
ചെന് ചേരചാമ്മാം  in Malayalam (മലയാളം)
石斑 in Mandarin Chinese
紅格仔 in Mandarin Chinese
红格仔 in Mandarin Chinese
过鱼 in Mandarin Chinese
過魚 in Mandarin Chinese
青星九刺鮨 in Mandarin Chinese
青星九棘鱸 in Mandarin Chinese
青星九棘鲈 in Mandarin Chinese
鱠 in Mandarin Chinese
鲙 in Mandarin Chinese

Custom Search