Spooted drum
It is frequently observed during the day under ledges or near the opening of small caves, at depths between 3 and 30 meters, where it swims in repetitive patterns.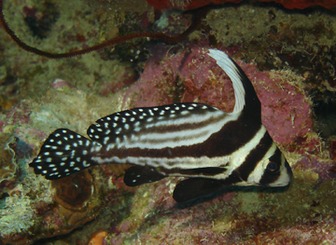 Picture of the Spooted drum has been licensed under a Creative Commons
Attribution
.
Original source
: Transferred from en.wikipedia Author Original uploader was Adona9 at
Author
: Original uploader was Adona9 at en.wikipedia Permission (
The Spooted drum lives in the reef-associated, marine, depth range 3 - 30 m environment.
Nothing known about the Spooted drum
Common names
Bacalhau in Portuguese (Português)
Curate in French (français)
drum in English
Évêque étoilé in French (français)
EvÍque Ètoilé in French (français)
Gulnea in Spanish (español)
Monsieur l'abbé in French (français)
Obispo estrellado in Spanish (español)
Obispo pintado in Spanish (español)
payasito punteado in Spanish (español)
Plettet rytterfisk in Danish (dansk)
Rei 'i laman in Papiamento
Rei di laman in Papiamento
Serrana in Spanish (español)
Serrana hispana in Spanish (español)
Spooted drum in English
spotted drum in English
Spotted equetus in English
spotted ribbonfish in English
Tüpfel-Ritterfisch in German (Deutsch)
Vaqueta in Spanish (español)
Vaqueta punteada in Spanish (español)
斑高鰭 in Mandarin Chinese
斑高鳍 in Mandarin Chinese

Custom Search