Threespot humbug
Grey to black body with two lateral white spots and one between the eyes, the Threespot dascyllus grows up to 14cm in length.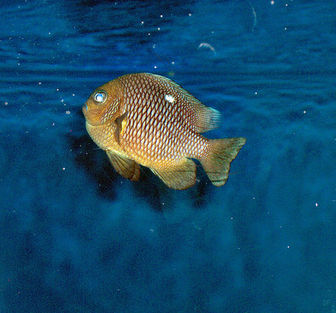 Picture of the Threespot humbug has been licensed under a Creative Commons
Attribution
.
Original source
: Own work (Own photo) Author Georges Jansoone (JoJan)
Author
: Georges Jansoone (JoJan)
The Threespot humbug lives in the reef-associated, non-migratory, marine, depth range 1 - 55 m environment.
Nothing known about the Threespot humbug
Common names
'Atoti in Tahitian (Reo Mā`ohi)
Barakkotti in Malayalam (മലയാളം)
Boeteur in French (français)
Cá Thia ba ch?m tr?ng in Vietnamese (Tiếng Việt)
Cá Thia ba chấm trắng in Vietnamese (Tiếng Việt)
Dakocan surobaya in Malay (bahasa Melayu)
Damselfish in English
Dascyllus trimaculatus in Catalan (Català)
Demoiselle à trois taches in Creole, French
Demoiselle à trois taches in Creoles and Pidgins, French
Domino in Afrikaans
Domino in Creoles and Pidgins, French
Domino in English
domino damsel in English
domino damselfish in English
Domino noir in French (français)
Ega'aisse in Arabic (‫العربية)
Gombing in Malay (bahasa Melayu)
Guru in Fijian (vosa Vakaviti)
Ikiribit in Marshall
Ikiribit in Marshallese (Kajin M̧ajeļ)
Kaluburang in Mahl
Karipadatham in Malayalam (മലയാളം)
Kepal batu in Malay (bahasa Melayu)
Lisheog in Austronesian (Other)
Lisheog in Carolinian
Makhrev in Arabic (‫العربية)
Mitsuboshi-kurosuzumedai in Japanese (日本語)
Montsuki in Japanese (日本語)
Palata in Tagalog
Palata in Tagbanwa Calamian
Palata in Visayan
Shibibu in Arabic (‫العربية)
Sort jomfrufisk in Danish (dansk)
Te baamai in Gilbertese
Te baamai in Kiribati
Te bukibuki in Gilbertese
Te bukibuki in Kiribati
Te moimoi in Tuvaluan
Three spot damsel in English
Three spot damselfish in English
Three spot dascyllus in English
Three-spot damsel in English
Three-spot dascyllus in English
Three-spot humbug in English
threespot damselfish in English
threespot dascyllus in English
threespot humbug in English
Treprickig Frökenfisk in Swedish (Svenska)
Tu'u'u-pulelua in Samoan (gagana fa'a Samoa)
White-spot puller in English
whitespot humbug in English
കരിപടതാം in Malayalam (മലയാളം)
കരിപടത്തം in Malayalam (മലയാളം)
പാര ക്കൊറ്റി in Malayalam (മലയാളം)
ബരക്കൊട്ടി  in Malayalam (മലയാളം)
ミツボシクロスズメダイ in Japanese (日本語)
三斑圆雀鲷 in Mandarin Chinese
三斑圓雀鯛 in Mandarin Chinese
三斑宅泥魚 in Mandarin Chinese
三斑宅泥鱼 in Mandarin Chinese
샛별돔 in Korean (한국어)

Custom Search