Hawaiian dascyllus
Length up to 12.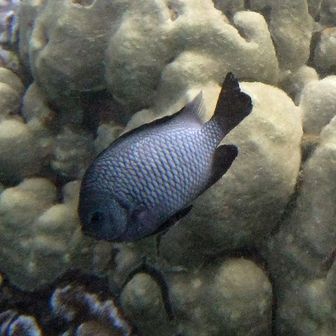 Picture of the Hawaiian dascyllus has been licensed under a Creative Commons
Attribution
.
Original source
: Transferred from en.wikipedia; transferred to Commons by User:Sfan00_IMG<
Author
: Original uploader was Danbirchall at en.wikipedia Permission (
The Hawaiian dascyllus lives in the reef-associated, non-migratory, marine, depth range 1 - 50 m environment.
Hawaiian dascyllus may occur here on isolated coral heads along with an occasional triggerfish. On sand flats in areas with moderate currents you may see garden eels (Gorgasia hawaiiensis) extending out of their sand burrows. More
A Hawaiian Dascyllus (Dascyllus albisella) turning to stare a diver in the face, Kohala Coast at 80ft depth Posted by Andrew Cooper in Postcard from the Reef at 01:00 | Comments (0) | Trackbacks (0) CommentsDisplay comments as (Linear | Threaded) No comments More
Hawaiian Dascyllus (Dascyllus albisella), a member of the Damselfish family (Pomacentridae). From its size - not even a half-inch (15 mm) long - we reckon the tiny fish was barely past its larval stage. More
Hawaiian Dascyllus on a Reef in Kona Hawaii Photo taken on: September 07th, 2008 Keywords: damsel dascyllus diving exotic fish hawaii hawaiian nature pacific reef scuba tropical underwater usa vacation vertebrate water Categories: - More
abdominalis), the Hawaiian dascyllus (Dascyllus albisella), which is commonly found in cauliflower coral heads, and a diverse mix of wrasses. Goatfish (Parupeneus spp. and Mulloidichthys spp.) are also frequently seen. More
Common names
Alo ilo i in Hawaiian
Dascyllus albisella in Catalan (Català)
Hawaiian dascyllus in English
Hawaiian domino in English
Hawaiian domino damselfish in English
Hawaiian threespot damsel in English
Hawaiian threespot damselfish in English
Hawaiin dascyllus in English
Onespot damselfish in English
spot dascyllus in English
Threespot damsel in English
白宅泥魚 in Mandarin Chinese
白宅泥鱼 in Mandarin Chinese

Custom Search