Sebae anemonefish
Although it is well known for its shared name with the sebae anemone, it is normally found with the saddle anemone.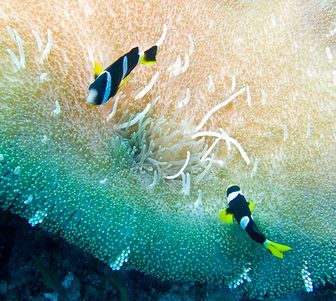 Picture of the Sebae anemonefish has been licensed under a Creative Commons
Attribution-Share Alike
.
Original source
: Flickr Author Miles Wu Permission (
Author
: Miles Wu Permission (
The Sebae anemonefish lives in the reef-associated, non-migratory, marine, depth range 2 - 25 m environment.
Sebae anemonefish (Amphiprion sebae) and sea anemone in the Maldives. Allard's clownfish (Amphiprion allardi). Maldive anemonefish (Amphiprion nigripes). It is sometimes called the Black-finned anemonefish due to its black pelvic and anal fins. Pink skunk clownfish (Amphiprion perideraion). More
Sebae Anemonefish (Amphiprion sebae) Thielle's Anemonefish (Amphiprion thiellei) Three-Band Anemonefish (Amphiprion tricinctus) Spine-Cheek Clown (Premnas biaculeatus) Domino Damsel (Dascyllus trimaculatus) Copyright 2001 MarineDepotLive. More
Sebae anemonefish Amphiprion sebae Maldives Indian Ocean underwater photography sea images Sebae anemonefish (Amphiprion sebae) Pink anemonefish Amphiprion perideraion on carpet anemone Maldives Indian Ocean Pink anemonefish (Amphiprion More
Sebae anemonefish - Amphiprion sebae Sebae anemonefish - Amphiprion sebae Preview| Add Favorites Clark's Anemonefish - Amphiprion clarkii Clark's Anemonefish - Amphiprion clarkii Preview| More
Common names
Amphiprion sebae in French (français)
brown clownfish in English
Giropasir in Malay (bahasa Melayu)
Goldschwanz-Anemonenfisch in German (Deutsch)
Gulfenad Clownfisk in Swedish (Svenska)
Indisk klovnfisk in Danish (dansk)
Natin te taima in Gilbertese
Natin te taima in Kiribati
Natin te taima in Unknown
Sárgafarkú bohóchal in Hungarian (Magyar)
Seba anemonefish in English
Sebae anemonefish in English
Sebae anemones in English
sebae clown in English
Sebae clownfish in English
Te nikatang in Gilbertese
Te nikatang in Kiribati
Te nikatang in Unknown
yellowtail clownfish in English
yellowtailed anemonefish in English
双带双锯鱼 in Mandarin Chinese
双带双锯鱼 in Unknown
雙帶雙鋸魚 in Mandarin Chinese
雙帶雙鋸魚 in Unknown

Custom Search