Oneband anemonefish
The tomato clownfish, Amphiprion frenatus, is a clownfish that is found in the waters of the Western Pacific, from the Ryukyu Islands, Japan, to Malaysia and Indonesia.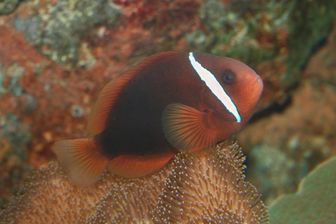 Picture of the Oneband anemonefish has been licensed under a Creative Commons
Attribution
.
Original source
: Own work Author Lonnie Huffman Permission (
Author
: Lonnie Huffman Permission (
The Oneband anemonefish lives in the reef-associated, non-migratory, marine, depth range 1 - 12 m environment.
Oneband anemonefish (Amphiprion frenatus) 00:00:15:00 AIV-0002 Oneband anemonefish (Amphiprion frenatus) More
Common names
Amphiprion frenatus in Italian (Italiano)
blackback anemonefish in English
Bombin in Malay (bahasa Melayu)
Bridled anemonefish in English
Cá Thia m?t s?c in Vietnamese (Tiếng Việt)
Cá Thia một sọc in Vietnamese (Tiếng Việt)
cinnamon clown in English
fire clown in English
Gombing in Malay (bahasa Melayu)
Hama-kumanomi in Japanese (日本語)
Ikan badut in Malay (bahasa Melayu)
Inggu in Malay (bahasa Melayu)
oneband anemonefish in English
Onebar anemonefish in English
Palata in Tagalog
Palata in Visayan
red clown in English
red saddleback anemonefish in English
Red tomato clown in English
Tau ng lanagan in Tagbanwa Calamian
Tomatklovnfisk in Danish (dansk)
Tomato anemonefish in English
tomato clownfish in English
Tompel strip sby in Malay (bahasa Melayu)
Ulan-ulan in Maranao/Samal/Tao Sug
Ulan-ulan in Tagalog
Weißbinden-Glühkohlen-Anemonenfisch in German (Deutsch)
Клоун томатный in Russian (русский язык)
白条双锯鱼 in Mandarin Chinese
白条海葵鱼 in Mandarin Chinese
白條海葵魚 in Mandarin Chinese
白條雙鋸魚 in Mandarin Chinese

Custom Search