Brown anemonefish
Clark's Anemonefish is a spectacularly colourful fish, with vivid black, white and yellow stripes, though the exact pattern shows considerable geographical variation.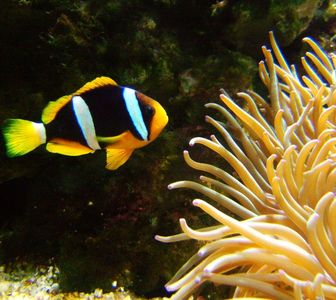 Picture of the Brown anemonefish has been licensed under a Creative Commons
Attribution-Share Alike
.
Original source
: SXC, 289370 (Source file has been cropped by uploader to remove unwanted background material.)
The Brown anemonefish lives in the reef-associated, non-migratory, marine, depth range 1 - 60 m environment.
Brown Anemonefish ( Amphiprion clarkii ) Brown Banded Bamboo Shark ( Chiloscyllium punctatum ) Brown Banded Bamboo Shark ( Chiloscyllium punctatum ) Brown Banded Bamboo Shark ( Chiloscyllium punctatum ) Brown Banded Cat Shark ( Chiloscyllium punctatum ) More
Brown Anemonefish (Amphiprion clarkii) © Carol Buchanan Brown Anemonefish (Amphiprion clarkii) Three tomato clownfish © Carol Buchanan Three tomato clownfish Tomato Clownfish © Carol Buchanan Tomato Clownfish More
Brown Anemonefish (Amphiprion clarkii) - Photo ID #70468 a clarks anemonefish living in the tentacles of its anemone * Film 35mm * Colour Transparency More
Common names
A'samak al muharij clark in Arabic (‫العربية)
Amphiprion clarkii in French (français)
Bantay-bothot in Visayan
black clown in English
Bombin in Malay (bahasa Melayu)
Brown anemonefish in English
Cá Khoang c? ba s?c in Vietnamese (Tiếng Việt)
Cá Khoang cổ ba sọc in Vietnamese (Tiếng Việt)
Cá Thia ba s?c in Vietnamese (Tiếng Việt)
Cá Thia ba sọc in Vietnamese (Tiếng Việt)
chocolate clownfish in English
Clarcki's clown in English
Clark's anemonefish in English
Clarks Anemonenfisch in German (Deutsch)
Ega'aisse in Arabic (‫العربية)
Giro pasir biasa in Malay (bahasa Melayu)
Gombing in Malay (bahasa Melayu)
Iga ni raerade in Gela
Ikan badut in Malay (bahasa Melayu)
ilava ni kinikini in Fijian (vosa Vakaviti)
ilava ni mavai in Fijian (vosa Vakaviti)
Inggu in Malay (bahasa Melayu)
Kumanomi in Japanese (日本語)
Maagandu mas in English
Maagandu mas in Maldivian
Mangkot in Visayan
Mørk klovnfisk in Danish (dansk)
Poisson-clown à queue jaune in French (français)
Poisson-clown de Clark in French (français)
Sea bee in English
Shokoladnaya rybka-kloun in Russian (русский язык)
Tau ng lanagan in Tagbanwa Calamian
yellowtail clownfish in English
Zwarte anemoonvis in Dutch (Nederlands)
克氏双锯鱼 in Mandarin Chinese
克氏海葵魚 in Mandarin Chinese
克氏海葵鱼 in Mandarin Chinese
克氏雙鋸魚 in Mandarin Chinese
棕色双锯鱼 in Mandarin Chinese
棕色雙鋸魚 in Mandarin Chinese
흰동가리 in Korean (한국어)

Custom Search