Spiny chromis
Acanthochromis polyacanthus is a Chromis from the Western Pacific.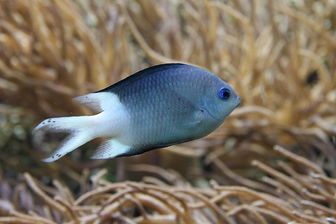 Picture of the Spiny chromis has been licensed under a Creative Commons
Attribution
.
Original source
: Flickr: Tropical fish Author
Author
: Nikita Permission (
The Spiny chromis lives in the reef-associated, non-migratory, marine, depth range 1 - 65 m environment.
Coral w/ spiny chromis 01:04 - 3 years ago High Definition Stock Footage 1-888-ASL-LENS Shot of orange/yellow coral with spiny chromis. Tight shot High Definition Stock Footage 1-888-ASL-LENS Shot of orange/yellow coral with spiny chromis. More
Spiny Chromis can grow up to 14 cm what is approximately 5 inches. So 1 specimen requires at least 1680cm2 of water surface what is approximately 260 square inch. We recommend you to keep it in fish tanks which are medium. More
The Spiny Chromis, also known as the Orange Line Chromis, is found in schools throughout the reefs of the Indian and Western Pacific Oceans. This fish, as a juvenile, is blue in color with a broken orange line running horizontally from the gill plate to the tail. More
Spiny chromis, Anachromis polyacanthus Bronze reef chromis, Chromis agilis Yellow chromis, Chromis analis Black-axil chromis, Chromis atripectoralis First PagePrevious PageNext Page Last Page More
Common names
Acanthochromis polyacanthus in Polish (polski)
Betok ekor putih in Malay (bahasa Melayu)
Palata in Tagbanwa Calamian
Spiny chromis in English
Spiny puller in English
Spiny-tail puller in English
spotty-tail in English
Tornet safirfisk in Danish (dansk)
多刺棘光鰓鯛 in Mandarin Chinese
多刺棘光鳃鲷 in Mandarin Chinese

Custom Search