Sixbar angelfish
Despite being very sought after by many aquarists, the sixbar angelfish is very difficult to care for.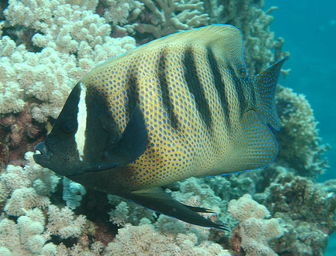 Picture of the Sixbar angelfish has been licensed under a Creative Commons
Attribution
.
Original source
: Flickr Author Leonard Low from Australia
Author
: Leonard Low from Australia
The Sixbar angelfish lives in the reef-associated, non-migratory, marine, depth range 3 - 50 m environment.
The diet of the Sixbar Angelfish should consist of algae, fresh or frozen seafood, and angelfish food preparations containing various sponges. Maximum Length: 18 in. More
Common names
Alibang-bang in Surigaonon
Alibangbang in Tagalog
Alibangbang in Visayan
Baban in Tokelauan
Badiangon in Surigaonon
Bagjangon in Surigaonon
Balukbuk in Tagbanwa Calamian
Baro-baro in Tagalog
Bluestone kambingan in English
Boray boray in Visayan
Kaat in Kumak
Kulibangbang in Ilokano
Paro-paro in Tagalog
Paru-parang dagat in Tagalog
Paru-parung dagat in Tagalog
Poisson ange in French (français)
Poisson-ange à six bandes in French (français)
Rokusen-yakko in Japanese (日本語)
Seksbåndet kejserfisk in Danish (dansk)
Six barred angel in English
Six-banded angelfish in English
Sixband angelfish in English
sixbanded angelfish in English
Sixbar angelfish in English
Tapay tapay in Visayan
Taring pelandok in Malay (bahasa Melayu)
六带刺盖鱼 in Mandarin Chinese
六带剑盖鱼 in Mandarin Chinese
六带盖刺鱼 in Mandarin Chinese
六带神仙 in Mandarin Chinese
六帶刺蓋魚 in Mandarin Chinese
六帶劍蓋魚 in Mandarin Chinese
六帶神仙 in Mandarin Chinese
六帶蓋刺魚 in Mandarin Chinese

Custom Search