Majestic angelfish
Blue-girdled angelfish, Pomacanthus navarchus is a marine angelfish from the Indo-Pacific ocean.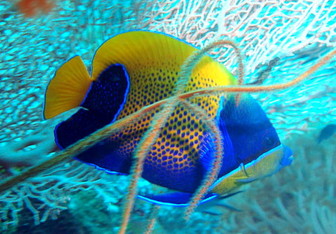 Picture of the Majestic angelfish has been licensed under a Creative Commons
Attribution-Share Alike
.
Original source
: Transferred from en.wikipedia; transferred to Commons by User:MiPe using
Author
: Original uploader was Ssalmenkivi at en.wikipedia Permission (
The Majestic angelfish lives in the reef-associated, non-migratory, marine, depth range 3 - 40 m environment.
The Majestic Angelfish is one of the more mellow Pomacanthus angels and usually does not display aggression towards its tankmates, with the possible exception of other large angels and conspecifics introduced after it has established itself. More
The Majestic Angelfish is one of the top three in the beautiful and striking category of it More
Majestic Angelfish - They are one of the top three in the beautiful and striking category of its genus. Juveniles are blue with light blue lines on the body and a transparent tail. More
After spending $180 for my Majestic angelfish, he would not eat for the first 5 days. Later I read on line that some of these fish never learn to eat in captivity. He would not touch flake food as he was very shy at first and a slow feeder. More
Majestic Angelfish Description Product Description Bottom Majestic Angelfish - Euxiphipops navarchus: The large Majestic Angel is not an easy fish to keep, but for advanced aquaculturalists, the achievement of maintaining this exquisitely beautiful fish More
The adult Majestic Angelfish is a brilliantly colored fish. The juvenile fish, similar to many of the Pomacanthus angelfish, is mostly blue in color with white stripes. It begins to transform into adult coloration at a relatively small size (~ 2 1/2 inches). More
The Blue Girdled Angelfish, also called the Majestic Angelfish, has yellow scales with blue margins and a dark blue band, or girdle, that covers the face and extends backward Bluespotted Angelfish Bluespotted Angelfish Chaetodontoplus caeruleopunctatus No More
Majestic Angelfish is not a reef safe fish. Food: Majestic Angelfish should be offered meaty foods. Also special angelfish blend should be offered occasionally. Breeding: Not captive bred. More
Common names
Alibangbang in Tagalog
Alibangbang in Visayan
Angel piama in Malay (bahasa Melayu)
Angel piama kecil in Malay (bahasa Melayu)
Blue girdled angel in English
Blue girdled angelfish in English
Blue-girdled angelfish in English
Bluegirdle angelfish in English
bluegirdled angelfish in English
Bluestone piama in Malay (bahasa Melayu)
Boray-boray in Tagalog
Boray-boray in Visayan
Drömkejsarfisk in Swedish (Svenska)
Majestic angelfish in English
Navarchus angelfish in English
Netkejserfisk in Danish (dansk)
Paru-parung dagat in Tagalog
Poisson-ange amiral in French (français)
Tarukeisarikala in Finnish (suomen kieli)
Young blue girdled angel in English
蓝肩刽盖鱼 in Mandarin Chinese
藍肩劊蓋魚 in Mandarin Chinese
馬鞍刺蓋魚 in Mandarin Chinese
马鞍刺盖鱼 in Mandarin Chinese

Custom Search