Stark's tilefish
Hoplolatilus starcki is a Tilefish from the Western Pacific.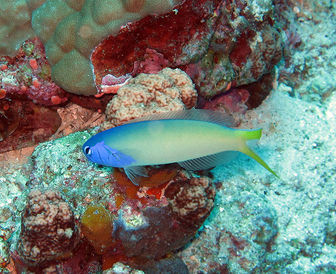 Picture of the Stark's tilefish has been licensed under a Creative Commons
Attribution
.
Original source
: originally posted to Flickr as 0710GBR 9 bluehead t
Author
: Lakshmi Sawitri Permission (
The Stark's tilefish lives in the reef-associated, marine, depth range 20 - 105 m , usually 20 - 50 m environment.
Nothing known about the Stark's tilefish
Common names
blue tilefish in English
Blue-head tilefish in English
Bluehead tilefish in English
Exocet biasa in Malay (bahasa Melayu)
Purple-headed sand tilefish in English
Starck' tilefish in English
Starck's tilefish in English
Stark's tilefish in English
斯氏弱棘魚 in Mandarin Chinese
斯氏弱棘魚 in Unknown
斯氏弱棘鱼 in Mandarin Chinese
斯氏弱棘鱼 in Unknown

Custom Search