Black pargue
Its color is typically greyish red, but it can change color from bright red to copper red.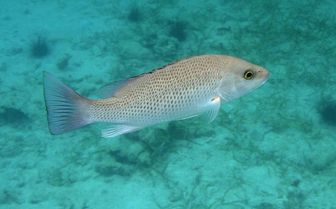 Picture of the Black pargue has been licensed under a Creative Commons
Attribution
.
Original source
: Grey Snapper Author Clinton & Charles Robertson fro
Author
: Clinton & Charles Robertson from Del Rio, Texas & San Marcos, TX, USA
The Black pargue lives in the reef-associated, amphidromous, freshwater, brackish, marine, depth range 5 - 180 m , usually - 50 m environment.
Nothing known about the Black pargue
Common names
Acará-aia in Portuguese (Português)
Black pargue in English
caballerete in Spanish (español)
Caballerote in Spanish (español)
Calipai in Wayuu
Carainha in Portuguese (Português)
Caranha in Portuguese (Português)
Caranha-de-viveiro in Portuguese (Português)
Caranha-do-mangue in Portuguese (Português)
Caranho in Portuguese (Português)
Caranhota in Portuguese (Português)
Caranjitu in Papiamento
Carde gris in French (français)
Castanhola in Portuguese (Português)
Dentão in Portuguese (Português)
Grå snapper in Danish (dansk)
Grå snapper in Swedish (Svenska)
Grauer Schnapper in German (Deutsch)
Gray silk in English
Gray snapper in English
Graysnapper in English
grey snapper in English
Grijze zeebaars in Dutch (Nederlands)
Kokkinópsaro in Greek (Ελληνικά)
Kokkinópsaro in Greek, Modern (1453)
Lawyer in English
Luciano in Portuguese (Português)
Lucjan trujacy in Polish (polski)
Lutianido in Italian (Italiano)
Mangrove pargue in English
Mangrove snapper in English
Napsija in Finnish (suomen kieli)
Nezumifuedai in Japanese (日本語)
Pagre in French (français)
Pargo in Portuguese (Português)
Pargo in Spanish (español)
Pargo de mangle in Spanish (español)
Pargo dentón in Spanish (español)
Pargo dientón in Spanish (español)
Pargo manglero in Spanish (español)
Pargo mulato in Spanish (español)
Pargo prieto in Spanish (español)
Pargue in English
Parguette in French (français)
Sarde grise in Creole, French
Sarde grise in Creoles and Pidgins, French
Sarde grise in French (français)
Schnapper in German (Deutsch)
Silk in English
Sinagrída in Greek (Ελληνικά)
Sinagrída in Greek, Modern (1453)
Snapper in English
Snapper in German (Deutsch)
Tarumi feudai in Japanese (日本語)
Vivaneau sarde grise in French (français)
луциан серый in Russian (русский язык)
灰笛鳚 in Chinese (中文)
灰笛鳚 in Mandarin Chinese

Custom Search