California sheephead
The sheephead can reach a size of 91 cm and a weight of 16 kg.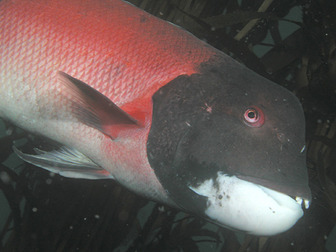 Picture of the California sheephead has been licensed under a Creative Commons
Attribution-Share Alike
.
Original source
: Large Sheephead, Pt. Lobos, Carmel, California. Image taken by Clark Anderson/Aquaimages.
The California sheephead lives in the reef-associated, marine, depth range 0 - 55 m , usually 3 - 30 m environment.
The California sheephead (Semicossyphus pulcher) is a wrasse native to the eastern Pacific Ocean. Its range is from Monterey Bay, California to the Gulf of California, Mexico. More
A California Sheephead at Ensenada's fishmarket (Mercado Negro), Baja California, Mexico. Sheephead.JPG References - * Semicossyphus pulcher (TSN 170744). Integrated Taxonomic Information System. More
California Sheephead Photos and Species Information for Fish Caught in Mexico See current, on-the-spot sportfishing reports and photographs of fish caught at Mexico's top vacation spots in this week's edition of "Mexico Fishing News" and see hundreds of other fish pictures and More
Status of the California Sheephead Stock for 2004 - Adobe Reader All files require Adobe Reader * Frontmatter * Executive Summary * Introduction * History of More
California sheephead inhabiting waters near the Channel Islands, which historically have been home to abundant populations of the fish. Dr. More
A male California sheephead at the fishmarket in Ensenada, Baja California, México. Credit: Wikipedia/Tomás Castelazo April 20, 2009 Contact: Christina S. Johnson, csjohnson@ucsd.edu, 858-822-5334 SANTA BARBARA — All California sheephead are born female. More
The commercial fishery for California Sheephead has shown distinct phases in fishing effort and only really became a significantly commercially targeted species in the 1980s/90s (Stephens 1992, Alonzo et al. More
California sheephead and kelp (calico) bass are being tracked in the waters surrounding Anacapa Island, off the coast of Ventura, California. More
Sheephead Per Angler, California Sheephead, Boat and Rank. More
California Sheepheads spawn in spring and summer and feed on crustaceans, echinoderms, and mollusks. They are popular with anglers and spear fishers, but the annual catch in California is no more than about 50,000 fish. More
COMMERCIAL CALIFORNIA SHEEPHEAD FISHERY SEASON TO CLOSE OCTOBER 1, 2007 The commercial fishery for California sheephead will close effective Oct. 1, 2007 at 12:01 a.m., the Department of Fish and Game (DFG) announced. More
California Sheepheads spawn in spring and summer and feed on crustaceans, echinoderms, and mollusks. More
The California sheephead is ranked highest in the CDFG public survey on Sanctuary species importance (Airamé, 2003). The fishery is important to sport divers, recreational anglers and the live commercial fishing industry. More
Common names
California sheephead in English
Californisk fårehoved in Danish (dansk)
Labre californien in French (français)
Lippfisch in German (Deutsch)
Sheephead in English
Vieja in sp
vieja californiana in Spanish (español)
Vieja de California in Spanish (español)
美丽突额隆头鱼 in Mandarin Chinese
美麗突額隆頭魚 in Mandarin Chinese

Custom Search