Barred hogfish
Barred hogfish, scientific name: Bodianus scrofa is a species of fish under the Bodianus genus.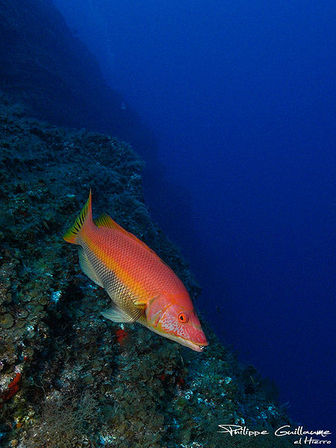 Picture of the Barred hogfish has been licensed under a Creative Commons
Attribution
.
Original source
: originally posted to Flickr as el Bajón, round 2
Author
: Philippe Guillaume Permission (
The Barred hogfish lives in the reef-associated, marine, depth range 20 - 200 m environment.
Previous Barred Hogfish records on Puerto Banus - Bodianus scrofa More Info Specie Weight Peg Angler Date Barred Hogfish More
Barred hogfish, scientific name: Bodianus scrofa is a species of fish under the Bodianus genus.... , Bodianus scrofa (ValenciennesAchille Valenciennes Achille Valenciennes was a France zoologist. More
Common names
Barred hogfish in English
Bodianus scrofa in Catalan (Català)
Bodião dente de cão in Portuguese (Português)
Bodião-dente-de-cão in Portuguese (Português)
Corvina in Creole, Portuguese
Corvina in Creoles and Pidgins, Portuguese
Gaio in Portuguese (Português)
grote schorpioenvis in Dutch (Nederlands)
Peixe cão in Portuguese (Português)
Peixe-cão in Portuguese (Português)
Pejeperro in Spanish (español)
porceau in French (français)
Pourceau in French (français)
roter Schweinsfisch in German (Deutsch)
Vieja in Spanish (español)
Viola in Portuguese (Português)
半带普提鱼 in Mandarin Chinese
半帶普提魚 in Mandarin Chinese

Custom Search