Atlantic white marlin
Average size is 45 to 65 lbs , with females reaching relatively larger sizes.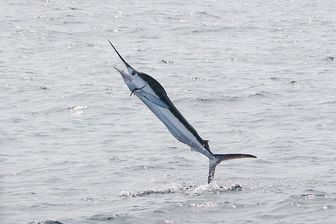 Picture of the Atlantic white marlin has been licensed under a Creative Commons
Attribution-Share Alike
.
Original source
: originally posted to Flickr as White Marlin in North
Author
: dominic sherony Permission (
The Atlantic white marlin lives in the pelagic-oceanic, oceanodromous, marine, depth range 0 - 150 m , usually 0 - 100 m environment.
Description: The Atlantic White Marlin has a sharp bill and pointed fins like other marlins. This beautiful fish is a sleek, fast and powerful swimmer. The upper half of its body is deep blue to chocolate brown and the lower half is silvery-white. More
the Atlantic white marlin stock will probably require closure of large areas of ocean to commercial fishing. Removing international longline effort from key hotspots where marlin likely spawn will certainly decrease the mortality through incidental catch. More
Atlantic white marlin: overutilization for commercial purposes, predation, inadequacy of existing regulatory mechanisms and other natural or manmade factors affecting its continued existence. These are discussed in detail in Section IX, below. More
harvest levels of Atlantic white marlin were unsustainable and that, even under the best of circumstances, the species would continue to decline. More
Atlantic white marlin have historically been landed as incidental catch of foreign and domestic commercial pelagic longline fisheries, or by recreational and artisanal fishermen. More
Atlantic white marlin appears to spawn in November in the Royal Charlotte Bank area off Brazil. More
The Atlantic White Marlin is very migratory following the seasons to warmer waters. Size: The White Marlin can grow up to ten feet in length. USA Record: New Jersey, 137 lb 8 oz. Atlantic Ocean-Hudson Canyon, by angler Mike Marchell 1980. More
the Atlantic white marlin, a billfish that lives in the tropical and temperate waters of the Atlantic Ocean, does not warrant listing as threatened or endangered under the Endangered Species Act (ESA). More
ICCAT), the Atlantic white marlin is in grave danger of extinction. That is what our lawsuit is about. We want its decline reversed and fast. More
Common names
Aguja blanca in Spanish (español)
Aguja blanca del Alántico in Spanish (español)
Aguja blanca del Atlántico in Spanish (español)
Aguja de costa in Spanish (español)
Aguja de paladar in Spanish (español)
Agulha in Portuguese (Português)
Agulhão in Portuguese (Português)
Agulhão branca in Portuguese (Português)
Agulhão-branco in Portuguese (Português)
Agulhão-prata in Portuguese (Português)
Alfiler in Spanish (español)
Alton in Spanish (español)
Atlantic white marlin in English
Augghia peddirina in Italian (Italiano)
Augghia pilligrina in Italian (Italiano)
Bag-sae-chi in Korean (한국어)
Belyi marlin in Russian (русский язык)
Bicuda in Portuguese (Português)
Blanca in Spanish (español)
Cabezona in Portuguese (Português)
Cabezona in Spanish (español)
Cometa in Spanish (español)
Espadarte meca in Portuguese (Português)
Espadarte-branco in Portuguese (Português)
Espadarte-meca in Portuguese (Português)
Espadim branco in Portuguese (Português)
Espadim-branco in Portuguese (Português)
Espadim-branco do Atlântico in Portuguese (Português)
Espadim-branco-do-Atlântico in Portuguese (Português)
Espadium branco in Portuguese (Português)
Espadium pequenho in Portuguese (Português)
Espadon in French (français)
Espadon branco do Atlantico in Portuguese (Português)
Hvid marlin in Danish (dansk)
Hvit marlin in Norwegian (Norsk)
Makaire blanc in French (français)
Makaire blanc de l'Atlantique in French (français)
Marlí blanc in Catalan (Català)
Marlim in Portuguese (Português)
Marlim-branco in Portuguese (Português)
marlin in English
Marlin alb in Rumanian
Marlin bialy in Polish (polski)
Marlin bianco in Italian (Italiano)
Marlin blanca in Spanish (español)
marlin blanco in Spanish (español)
Marlin-branco in Portuguese (Português)
Marlinos Atlantikou in Greek (Ελληνικά)
Marlinos Atlantikou in Greek, Modern (1453)
Nishimaka in Japanese (日本語)
Nishimakajiki in Japanese (日本語)
Pêto in Portuguese (Português)
Pez aguja in Spanish (español)
PÍto in Portuguese (Português)
skilligalee in English
Spjutfisk in Swedish (Svenska)
Valkomarliini in Finnish (suomen kieli)
Varé in Creole, French
Varé in Creoles and Pidgins, French
Vit marlin in Swedish (Svenska)
Weißer Marlin in German (Deutsch)
white marlin in English
Wit marlyn in Afrikaans
Witte marlijn in Dutch (Nederlands)
Μαρλίνος Aτλαντικού in Greek (Ελληνικά)
копьеносец белая in Russian (русский язык)
марлин белый in Russian (русский язык)
白枪鱼 in Mandarin Chinese
白槍魚 in Mandarin Chinese
白色四鰭旗魚 in Mandarin Chinese
白色四鳍旗鱼 in Mandarin Chinese
⏠αρλίνος Ατλαντικού in Greek, Modern (1453)

Custom Search