Atlantic porkfish
The Porkfish, Anisotremus virginicus is a Grunt from the Western Atlantic.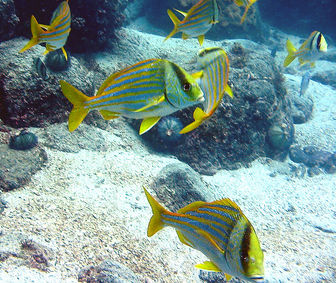 Picture of the Atlantic porkfish has been licensed under a
GFDL
Original source
: Self made in Ilha Grande, Angra dos Reis, Brazil. (Queimada Pequena). Author cralize
Author
: cralize
Permission
: GNU Free Documentation License
The Atlantic porkfish lives in the reef-associated, marine, depth range 2 - 20 m environment.
Atlantic Porkfish, Mark Martin Collection While generally not great aquarium fishes, several of the grunts are appropriate for large saltwater tanks, but the grunts known as sweetlips are best left to the expert. More
The Atlantic porkfish is from the Family Haemulidae, and fishes from this family are commonly referred to by aquarists as grunts. They are called grunts because they make a More
The Atlantic porkfish is the only Caribbean grunt with two black vertical bars and yellow stripes. 2. Porkfish are primarily nocturnal predators, targeting benthic prey items. 3. More
Atlantic Porkfish, Mark Martin Collection More
Common names
Arroz con coco in Spanish (español)
Atlantic porkfish in English
Bandera in Papiamento
Bandera spañó in Papiamento
Bonakanaal in Papiamento
Boneknaap in Dutch (Nederlands)
Boneknap in Papiamento
Burro catalina in Spanish (español)
burro payaso in Spanish (español)
Cabomartin in Spanish (español)
Canario in Spanish (español)
Catalina in Spanish (español)
Catalineata in Spanish (español)
Catalineta in Spanish (español)
Ferrugem in Portuguese (Português)
Frade in Portuguese (Português)
Grisfisk in Swedish (Svenska)
Grunt in English
Kuroobidai in Japanese (日本語)
Lippu rondeau in French (français)
Luszczyk wirginski in Polish (polski)
Mercador in Portuguese (Português)
Palriot in French (français)
Paragrate grunt in English
porkfish in English
Röhkijäkala in Finnish (suomen kieli)
Roncador-listado-americano in Portuguese (Português)
Ronco in Spanish (español)
Rondeau in French (français)
Salema in English
Salema in Portuguese (Português)
Salema-branca in Portuguese (Português)
Sambuari in Portuguese (Português)
Selumixira in Portuguese (Português)
Spaanse vlag in Dutch (Nederlands)
Svinefisk in Danish (dansk)
Svinfisk in Norwegian (Norsk)
Svinfisk in Swedish (Svenska)
Virginia-Grunzer in German (Deutsch)
каталинета in Russian (русский язык)
枝异孔石鲈 in Mandarin Chinese
枝異孔石鱸 in Mandarin Chinese

Custom Search