Blackcap basslet
A small fish, reaching four inches in length, it is purple with a diagonal black cap on its head.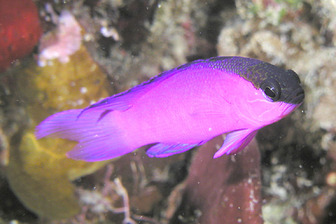 Picture of the Blackcap basslet has been licensed under a Creative Commons
Attribution-Share Alike
.
Original source
: Originally from en.wikipedia; description page is/was here. Author Original uploader wa
Author
: Original uploader was Aquaimages at en.wikipedia Permission (
The Blackcap basslet lives in the reef-associated, marine, depth range 11 - 60 m , usually 20 - 60 m environment.
The Blackcap Basslet is a deep water species found throughout the Caribbean. Its brilliant purple body and jet-black diagonal cap make it a striking addition to any aquarium. More
The Blackcap Basslet is one of the finest Caribbean fish available for a reef tank with its stunning beauty and cavernous activity. These fish are magenta to purple in color with a black "cap" running from their lip to foredorsal fin. More
Blackcap Basslets can become territorial once established, so they should not be kept with other basslets. Because they tend to be deep-water dwellers, they do better in an aquarium with slightly subdued lighting. More
The blackcap basslet is purple with a black cap on its head. Although not overly aggressive, they will vigorously defend their favorite hole or interstice, chasing fish away that venture to near. Best kept with less belligerent tankmates. More
blackcap basslet and the yellowlined basslet), all of which inhabit the Caribbean region. The royal gramma and blackcap basslet are quite common in the aquarium trade, the former being the most popular. More
The blackcap basslet is a deep water fish across most of its range. It generally lives on deep water walls rarely seen in waters shallower than 60 feet. More
The Blackcap Basslet prefers dimly lit aquariums as it is often found on deep reef faces and walls. Once considered difficult to obtain, it is now more common. Will likely be shy upon introduction and retiring if kept with boisterous tank mates. More
Common names
blackcap basslet in English
cabrilleta violeta in Spanish (español)
Gramma violeta in Spanish (español)
黑頂線鮨 in Mandarin Chinese
黑頂線鮨 in Unknown
黑顶线鮨 in Mandarin Chinese
黑顶线鮨 in Unknown

Custom Search