Filament-finned prawn-goby
Adult fish can grow up to two inches in length, with the striking pointed dorsal fin becoming more raised and pronounced in adulthood.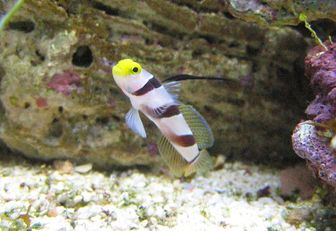 Picture of the Filament-finned prawn-goby has been licensed under a
GFDL
Original source
: Transferred from en.wikipedia; transfer was stated to be made by User:Nordelch.
Author
: Original uploader was Sammydee at en.wikipedia
Permission
: GNU Free Documentation License
The Filament-finned prawn-goby lives in the reef-associated, marine, usually 15 - 25 m environment.
Nothing known about the Filament-finned prawn-goby
Common names
Bia in Tagalog
Black-rayed shrimp-goby in English
Black-rayed shrimpgoby in English
Filament-finned prawn-goby in English
Stonogobiops nematodes in French (français)
Viiriraputokko in Finnish (suomen kieli)
丝鳍连膜鰕虎鱼 in Mandarin Chinese
丝鳍连膜鰕虎鱼 in Unknown
絲鰭連膜鰕虎魚 in Mandarin Chinese
絲鰭連膜鰕虎魚 in Unknown

Custom Search