Arc-eye hawkfish
Paracirrhites arcatus is a Hawkfish from the Indo-Pacific.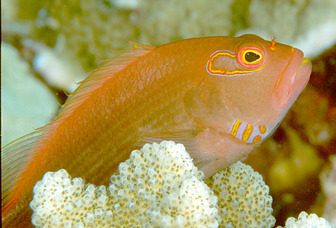 Picture of the Arc-eye hawkfish has been licensed under a Creative Commons
Attribution-Share Alike
.
Original source
: Originally from en.wikipedia; description page is/was here. Author Original uploader wa
Author
: Original uploader was Aquaimages at en.wikipedia Permission (
The Arc-eye hawkfish lives in the reef-associated, marine, depth range 1 - 91 m , usually 1 - 33 m environment.
The Arc-Eye Hawkfish does not bother corals but will eat ornamental shrimps, crabs, and may harass smaller fishes. Diet Hawkfish prefer meaty foods that include fish and crustacean flesh, frozen mysis shrimp and other frozen commercial preparations. More
Arc-Eye Hawkfish Description Product Description Bottom The Arc Eye Hawkfish, also known as Arc-Eyed Hawkfish, has an orange-colored body with a white horizontal bar on the back half. More
The Arc-Eye Hawkfish likes to sit on the bottom, perching itself on top of a coral head where it waits for unsuspecting prey. When threatened it will go down inside the coral head for protection. More
The Arc-eye Hawkfish lives in the Indo-Pacific. It can be found from Africa to the Hawaiian, Line and Mangaréva islands, and its range proceeds northwards up to southern Japan and southwards down to Australia and Rapa. More
Tags: arc-eye hawkfish, karen simmons, magic passage, spotfin lionfish, sunrise 4 Comments » Hawkfishes – Little Jewels of the Sea - Posted in Under the Sea on March 15th, 2008 by MadDogNo Gravatar It's Saturday More
Common names
Ali-mulial in Austronesian (Other)
Ali-mulial in Carolinian
Arc eye in English
Arc eyed hawkfish in English
Arc-eye hawkfish in English
Arc-eyed hawkfish in English
bika vatu in Fijian (vosa Vakaviti)
Büschelbarsch in German (Deutsch)
Épervier strié in French (français)
Galiyechimweliyal in Austronesian (Other)
Galiyechimweliyal in Carolinian
Hoefyster-valkvis in Afrikaans
Horseshoe hawkfish in English
Koni mata in Gela
Lausiva in Samoan (gagana fa'a Samoa)
Meganegonbe in Japanese (日本語)
Onan in Marshall
Onan in Marshallese (Kajin M̧ajeļ)
Øjebuet falkefisk in Danish (dansk)
Patu'I in Tahitian (Reo Mā`ohi)
Patui in Tahitian (Reo Mā`ohi)
Pilikoa in Hawaiian
Poisson-Èpervier à arcade in French (français)
Ring-eye hawkfish in English
Ring-eyed hawkfish in English
Ringeye hawkfish in English
Ringeyed hawkfish in English
Striped hand-fish in English
Whiteline hawkfish in English
whitelined hawkfish in English
whitelined hawkfish in Unknown
副 in Chinese (中文)
副 in Mandarin Chinese
白線格 in Mandarin Chinese
白线格 in Mandarin Chinese

Custom Search