Coral hawkfish
Cirrhitichthys oxycephalus is a Hawkfish from the Indo-Pacific.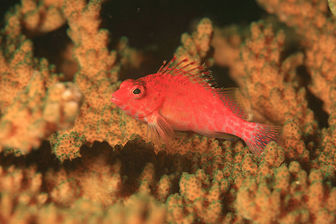 Picture of the Coral hawkfish has been licensed under a Creative Commons
Attribution
.
Original source
: Coral hawkfish
Author
: LASZLO ILYES from Cleveland, Ohio, USA
The Coral hawkfish lives in the reef-associated, marine, depth range 1 - 40 m , usually 10 - 25 m environment.
Common names: Coral hawkfish, Halcon de coral N Images: 9 Home Blog New Search View Light Table Clear Light Table Add All To Light Table Compact View - Home > Blog > Search > Species > Cirrhitichthys oxycephalus > More
photo of coral hawkfish in typical coral habitat, from Ocean Oasis, More
The Pixy Hawkfish, also known as the Coral Hawkfish, is sometimes referred to as the Spotted Hawkfish, but it should not be confused with Cirrhitichthys aprinus, also called the Spotted Hawkfish. The Pixy Hawkfish has a whitish-blue body with large red spots. More
Common names
Blotched hawkfish in English
Boar hawkfish in English
Coral hawkfish in English
Coral hopper in English
Épervier à points rouges in French (français)
Épervier à taches rouges in French (français)
Épervier lutin in French (français)
Espervier à points rouges in French (français)
Gefleckter Korallenwächter in German (Deutsch)
Gespikkelde valkvis in Afrikaans
halcón in sp
Halcón de coral in Spanish (español)
Hawkfish in English
Korallihaukkakala in Finnish (suomen kieli)
Krapu tokek in Malay (bahasa Melayu)
Minamigonbe in Japanese (日本語)
Pixy hawkfish in English
Poisson-épervier taché in French (français)
Red barred hawkfish in English
respotted hawkfish in Unknown
Sharp-headed hawkfish in English
Spotted hawkfish in English
Täplähaukkakala in Finnish (suomen kieli)
Threadfin hawkfish in English
尖头金 in Mandarin Chinese
尖頭金 in Mandarin Chinese
尖鰭金 in Mandarin Chinese
尖鳍金 in Mandarin Chinese
斑点格 in Mandarin Chinese
斑金 in Chinese (中文)
斑金 in Mandarin Chinese
斑點格 in Mandarin Chinese
短嘴格 in Mandarin Chinese
長嘴格 in Mandarin Chinese
长嘴格 in Mandarin Chinese
무늬가시돔 in Korean (한국어)

Custom Search