Ocellated dragonet
Synchiropus ocellatus is a species of tropical marine fish in the Dragonet family.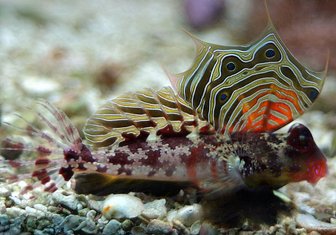 Picture of the Ocellated dragonet has been licensed under a Creative Commons
Attribution
.
Original source
: Flickr
Author
: Brian Jeffery Beggerly from S'pore
The Ocellated dragonet lives in the reef-associated, marine, depth range 1 - 30 m , usually 1 - 30 m environment.
The Ocellated Dragonet or Scooter Dragonet fish can make a very interesting addition to a well established saltwater tank with plenty of amphipods and copepods. More
as the Scooter Dragonet or Ocellated Dragonet, common names it sometimes shares with Neosynchiropus ocellatus. It has a mottled brown and white body with red highlights. The male usually has brighter colors and a larger first dorsal fin. More
The Scooter Blenny or Ocellated Dragonet adults can grow to 5 inches (12.7 cm). Minimum Tank Length/Size: A minimum 30 gallon aquarium is recommended for a single fish, with a 55 gallon aquarium to house more. More
This fish is known as Ocellated Dragonet and the correct latin name is Synchiropus Ocellatus. It belongs to the Dragonet family. (e) It's origin is Pacific Ocean. (e) Character and suggestions regarding care A peaceful fish which is not recommended for beginners. More
Common names
Bunog in Cebuano
Bunog in Davawenyo
Cá dàn lia in Vietnamese (Tiếng Việt)
Cá đàn lia in Vietnamese (Tiếng Việt)
Kouwan-teguri in Japanese (日本語)
Mandarin-fish in English
Mano'o-lele in Samoan (gagana fa'a Samoa)
Mano'o-tolo in Samoan (gagana fa'a Samoa)
Nangka-tangka in Waray-waray
Ocellated dragonet in English
Øjeplettet fløjfisk in Danish (dansk)
Rengaskokki in Finnish (suomen kieli)
Scooter blenny in English
smalleyed dragonet in English
Synchiropus ocellatus in French (français)
Talangka in Waray-waray
眼斑新连鳍 in Mandarin Chinese
眼斑新連鰭 in Mandarin Chinese
眼斑连鳍 in Mandarin Chinese
眼斑連鰭 in Mandarin Chinese
老鼠 in Mandarin Chinese

Custom Search