Dhon noo mas
Caesio xanthonota is a Fusilier from the Indian Ocean.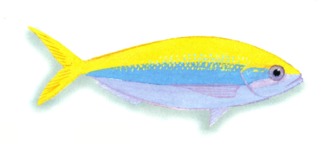 Picture of the Dhon noo mas has been licensed under a Creative Commons
Attribution-Share Alike
.
Original source
: Own work Author Xavier Romero-Frias
Author
: Xavier Romero-Frias
The Dhon noo mas lives in the reef-associated, non-migratory, marine, depth range 0 - 50 m environment.
Dhon Noo Mas, Yellow-Back Fusilier, Yellowback Fusilier, Yellowfin Fusilier Common Names in French: Fusilier � Dos Jaune Common Names in Gilbertese: Te Bukimaka Common Names in Hiligaynon: Sulig More
Common names
Antuan in Javanese (basa Jawa)
Bilason in Davawenyo
Carabi in Somali (Soomaaliga)
Dalagang bukid in Kuyunon
Dalagang bukid in Tagalog
Dhon noo mas in English
Dhon noo mas in Maldivian
Donkevumas in Mahl
Donnomas in Maldivian
Ekor kuning pisang in Malay (bahasa Melayu)
Ekor merah in Malay (bahasa Melayu)
Fusilero de lomo amarillo in Spanish (español)
Fusilier à dos jaune in French (français)
Fuzileiro barbatana amarela in Portuguese (Português)
Geelrug-piesangvis in Afrikaans
Gulryggad Fysiljärfisk in Swedish (Svenska)
Kamsiah in Javanese (basa Jawa)
Kibua in Swahili (Kiswahili)
Mbono in Swahili (Kiswahili)
Sinaw-an in Waray-waray
Solid in Cebuano
Solig in Kagayanen
Sulid in Bikol
Sulid in Davawenyo
Sulid in Tagalog
Sulig in Chavacano
Sulig in Hiligaynon
Te bukimaka in Gilbertese
Te bukimaka in Kiribati
Umeiromodoki in Japanese (日本語)
Viunda in Swahili (Kiswahili)
Yellow-back fusilier in English
yellowback fusilier in English
Yellowfin fusilier in English
黃背梅鯛 in Mandarin Chinese
黄背梅鲷 in Mandarin Chinese

Custom Search