Common galaxias
The common galaxias, Galaxias maculatus, is a species of fish from the galaxiid family that is very widespread in the southern hemisphere.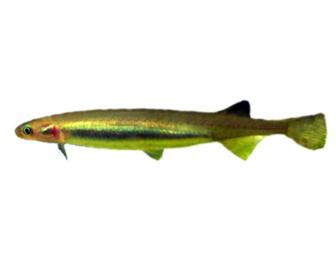 Picture of the Common galaxias has been licensed under a Creative Commons
Attribution-Share Alike
.
Original source
: Own work Author Lycaon.cl
Author
: Lycaon.cl
The Common galaxias lives in the benthopelagic, catadromous, freshwater, brackish, marine environment.
Common Galaxias, Inanga, Common Jollytail, Jollytail, Ika, Puyen The common galaxias, Galaxias maculatus, is a species of fish from the galaxiid family that is very widespread in the southern hemisphere. More
* Common galaxias, inanga, common jollytail or puyen, Galaxias maculatus (Jenyns, 1842) * Galaxias neocaledonicus Weber & de Beaufort, 1913 * Galaxias niger Andrews, 1985 * Western galaxias, Galaxias occidentalis More
In Australia the common galaxias is found in coastal rivers, lakes and streams at low altitudes from Adelaide in South Australia, through Victoria, Tasmania and the Bass Strait islands, New South Wales and Southern Queensland. More
The Common galaxias is a common fish of lowland coastal streams, from SA to southern Qld and Tas. More
Common galaxias (Common jollytail) Scientific Name Galaxias maculatus (Jenyns, 1842) Conservations Status Distribution and Abundance The Common galaxias is a common fish of lowland coastal streams, from More
Another name for a Common galaxias is a Galaxias maculatus Source: Digital Fish Funnel, July 27, 2004 report as bad entry | send to a friend via email Add your own definition of Common galaxias. More
Also common galaxias, mountain galaxias, spotted galaxias, broad-finned galaxias, tupong, Australian smelt, flat-headed gudgeon, pouched lamprey, short-headed lamprey, rainbow trout, occasional tench and Australian mudfish. Platypus are abundant in the middle and lower reaches. More
pouched lamprey, short-headed lamprey, common galaxias, mountain galaxias, Australian grayling, southern pygmy perch and goldfish. A number of rock ramp fishways have recently been constructed to assist natural fish migration in the river. More
Common names
Almindelig laksegedde in Danish (dansk)
Common galaxias in English
Common jollytail in English
Cowfish in English
Eel gudgeon in English
Galaksiya inanga in Russian (русский язык)
Gefleckte Galaxie in German (Deutsch)
Gefleckter Hechtling in German (Deutsch)
inaka in Maori (te reo Māori)
inanga in English
inanga in Maori (te reo Māori)
Jollytail in English
Lananga in English
Minnow in English
Native trout in English
Pulangi in English
Puye in Spanish (español)
Slippery tarki in English
Spotted minnow in English
Täplämeltti in Finnish (suomen kieli)
whitebait in English
大斑南乳魚 in Mandarin Chinese
大斑南乳鱼 in Mandarin Chinese
阿尔派南乳鱼 in Mandarin Chinese
阿爾派南乳魚 in Mandarin Chinese

Custom Search