Brown catshark
The blind shark is one of two species of carpet sharks in the family Brachaeluridae, along with the bluegrey carpetshark , and the only extant member of its genus.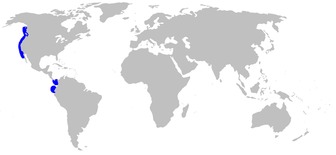 Picture of the Brown catshark has been licensed under a
GFDL
Original source
: Compagno, Leonard; Dando, Marc & Fowler, Sarah (2005). Sharks of the World. Collins Field Guides. ISBN 0-00-713610-2.
Author
: Chris_huh Permission (
Permission
: GNU Free Documentation License
The Brown catshark lives in the reef-associated, marine, depth range 0 - 140 m environment.
Brown catsharks have long, slender bodies with broad, bell-shaped snouts. They are dark brown with light colored markings on the posterior margins of their fins. Their bodies are soft and flabby, with a weak skin that can easily be harmed. More
No image of Brown catshark found in the Shark Database Range Map Earth Map Names Scientific: Bythaelurus lutarius German: Brauner Katzenhai More
The Brown Catshark is a deepwater species, endemic to the eastern Pacific Ocean, from British Columbia, Canada, to northern Baja California, and from Mexico to Panama, Ecuador, and Peru. More
Common names
Blind haj in Danish (dansk)
Blind shark in English
Blinde haai in Dutch (Nederlands)
Blindhai in German (Deutsch)
Brachaelurus waddi in Italian (Italiano)
Brown catshark in English
Dusky dogfish in English
Žralok slepý in Czech (česky)
Requin aveugle des roches in French (français)
Tiburón ciego de roca in Spanish (español)
Žralok slepý in Czech (česky)
Пятнистая шорная акула in Russian (русский язык)
瓦氏長鬚鯊 in Mandarin Chinese
瓦氏长须鲨 in Mandarin Chinese

Custom Search