Blueback mullet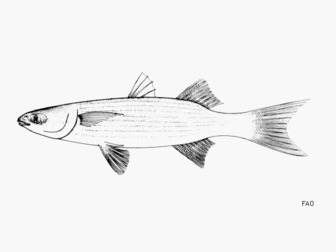 Picture of the Blueback mullet has been licensed under a Creative Commons
Attribution
.
Original source
: Fichas FAO de identificación de especies para los fines de la pesca. Guía de campo de las especies comerciales marinas y de aquas
Author
: Cervigón, F., R. Cipriani, W. Fischer, L. Garibaldi, M. Hendrickx, A.J. Lemus, R. Márquez, J.M. Poutiers, G. Robaina and B. Rodriguez
The Blueback mullet lives in the demersal, catadromous, freshwater, brackish, marine, depth range 10 - m environment.
Nothing known about the Blueback mullet
Common names
Blueback mullet in English
Brasiliansk multe in Danish (dansk)
Cacatão in Portuguese (Português)
Cacetão in Portuguese (Português)
Cambão in Portuguese (Português)
Cambiro in Portuguese (Português)
Chaveta in Portuguese (Português)
Curimã in Portuguese (Português)
Curimã-aiva in Portuguese (Português)
Curimaí in Portuguese (Português)
Fantail mullet in English
Garmot in French (français)
Guasiki in Wayuu
Kalmou in Papiamento
Kapiiyut in Palicur
Karmou in Papiamento
Kouéléma in Carib
Kouéléma in Galibi
Lebranche in Spanish (español)
Lebranche mullet in English
Lebrancho in Spanish (español)
Lisa in Spanish (español)
Lisa macho in Spanish (español)
liza in English
Meloso in Portuguese (Português)
Milé in Creole, French
Milé in Creoles and Pidgins, French
Mulet large in French (français)
mulet lebranche in French (français)
Mullet in English
Parati in Portuguese (Português)
Saúna in Portuguese (Português)
Saúna-açu in Portuguese (Português)
Soco in Spanish (español)
Taínha in Portuguese (Português)
Tainha de rio in Portuguese (Português)
Tainha-curimã in Portuguese (Português)
Tainha-de-corrida in Portuguese (Português)
Tainha-de-corso in Portuguese (Português)
Tainha-de-entrada in Portuguese (Português)
Tainha-de-rio in Portuguese (Português)
Tainha-pau in Portuguese (Português)
Tainha-seca in Portuguese (Português)
Tainha-verdadeira in Portuguese (Português)
Tainhota in Portuguese (Português)
Tamatarana in Portuguese (Português)
Tapiara in Portuguese (Português)
Tapugi in Portuguese (Português)
Urichoca in Portuguese (Português)
巴西鯔 in Mandarin Chinese
巴西鲻 in Mandarin Chinese
梭状鲻 in Mandarin Chinese
梭狀鯔 in Mandarin Chinese

Custom Search