Spanish pupfish
It is a freshwater fish, native to southern and eastern Spain and to northwestern Algeria.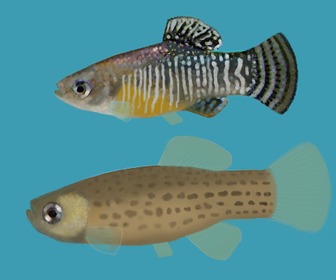 Picture of the Spanish pupfish has been licensed under a Creative Commons
Attribution-Share Alike
.
Original source
: Own work Author Osado
Author
: Osado
The Spanish pupfish lives in the benthopelagic, non-migratory, freshwater, brackish, pH range: 6.5 - 7.5, dH range: 8 - 10 environment.
The Spanish pupfish is classified as Endangered (EN), considered to be facing a very high risk of extinction in the wild.

Nothing known about the Spanish pupfish
Common names
Aphanius d'Espagne in French (français)
Fartet in Catalan (Català)
Fartet in Spanish (español)
Lareza vizake in Albanian (Shqip)
Spanienkärpfling in German (Deutsch)
Spanish pupfish in English
spanish toothcarp in English
Spansk killi in Swedish (Svenska)
Spansk tandkarpe in Danish (dansk)
Turkoosikillinen in Finnish (suomen kieli)
伊比利亚秘鮰 in Mandarin Chinese
伊比利亞祕鮰 in Mandarin Chinese

Custom Search